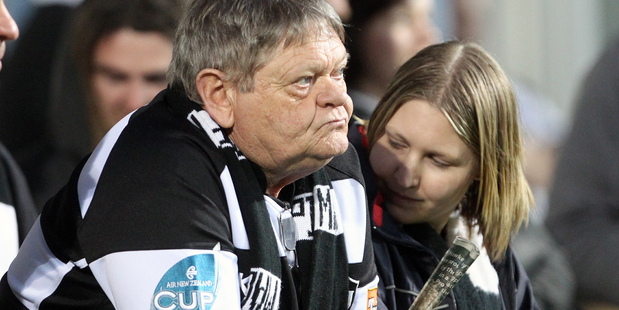 Counties Manukau locals spilled into pubs and clubs to celebrate a monumental Ranfurly Shield win 58 years in the making.
In a packed pub in Pukekohe jubilant patrons called for the victory against the Magpies to be turned into a public holiday. Most were unanimous there would be "no work on Monday", when the "boys" bring the shield home for a parade.
Diehard rugby fan Phil Thurton and his mate Carey Jones said the epic win was one for the bucket list.
"This is the pinnacle for us," Turton said. "We went to 11 Rugby World Cup games and followed the Lions Tour. Tonight we've witnessed history in the making."
The pair planned to celebrate by drinking "200 beers" and declared they wouldn't be going to work on Monday - "but don't tell the boss," Jones said.
Lindsay Hawkins, another Pukekohe local, described the win as incredible.
"It's a real rugby orientated community out here and Pukekohe is the hub - for us it's like being in the city when New Zealand won the America's Cup."
In a pub up the road, Ryan Keegan celebrated with mates ahead of a big night out - they had also decided there would be no work on Monday.
At the neighbouring table, Colin Billington enjoyed a quiet celebratory drink with a friend. He'd rushed to the bar just as the team scored the winning try - and said the reaction was "deafening."
Billington admits amid the cheers and primal roars - that he even shed a tear or two.
"I've always backed them, they've done us proud," he said. "I had a feeling about it yesterday."
Locals at Manukau were also out to celebrate.
James Kingham watched the game at his football club and said he was "stoked" with the win.
"I jumped up and down, I was happy as, it's been so long," he said. "My old man used to take me to Manurewa games when I was younger, I've always backed Counties. It was a proud moment."
For more articles from this region, go to Hawkes Bay Today