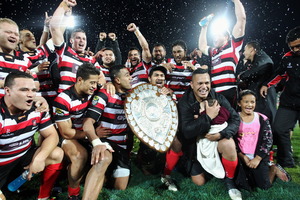 Waiuku's Kentish Hotel sounded like the spot to be last night when Counties Manukau won the Ranfurly Shield for the first time in 25 attempts.
At least that's how it sounded down the phone speaking to the union's 201-game veteran Alan Dawson.
Dawson has played the most games for Counties stretching back to when the numbers were on the front of the jerseys. He had been out in his shed listening on the radio when his wireless broke. With a tight contest in prospect it was not a time to hesitate. He shot to the pub and was duly rewarded.
"I played in about eight challenges - I lost count after a while - including two special draws, but this is just unbelievable. I'm 58 and was in the bar with my two brothers but felt like I was playing those last few minutes. People were jumping all over me in the bar.
"They made the right call in those final minutes - you've got to run it to win it - and that's what they did. That plan would never have worked at the start, but they knew when to switch.
"I'm so proud. I've got half a bottle of beer in my hand and I've just topped it up with tears.
"This is a tribute to [life member] Larry Bell. We had his funeral earlier this week and it was the biggest Counties reunion in years. There was a huge outpouring of emotion. We should call it the Larry Bell Trophy for a week."
Fellow Counties veteran Jim Coe played in seven unsuccessful challenges.
"I'm ecstatic. There was a lot of carrying-on at our place when they scored that last try. Sikeli Nabou will be the toast of the province. Sherwin Stowers was also electric and Tana [coach Umaga] made the right changes at the end to help the team go forward.
"It didn't look like they were going to do it in the first half; ill-discipline let them down. Tana must've have had some stern words at halftime because they came back. They also had to improve from last week where there was too much aimless kicking and too many penalties. We've had good teams in the past, but they weren't good enough. These guys finally put one together.
"I can finally tick it off my bucket list. I know it's a cliché but 'full credit' to them."