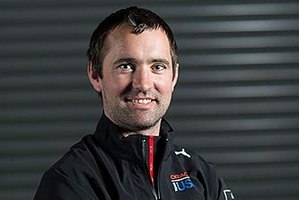 The family one of Oracle's banned team members, Andy Walker, are rallying around the boatbuilder.
The long-serving yachtmaker, who is based in San Francisco with his new wife Elizabeth, is barred from the America's Cup regatta after the international jury found him guilty of illegally altering a team racing craft at an earlier regatta.
He is one of four team members - including key sailors - to face severe sanctions for bringing the cup into disrepute.
Walker maintains he is innocent and has mounted a legal challenge to overturn the ruling.
Wife Elizabeth told the Herald on Sunday that the last few weeks had been extremely hard on the couple, though her husband remained employed by Oracle Team USA.
"It's been a hell of a couple or three weeks."
Father Rob Walker told the Herald on Sunday that he spoke to his son soon after learning of the America's Cup jury verdict this week.
"I called him to provide him with some support which I think he deserves."
The findings from the international jury were particularly critical of Andrew. "In June 2012, at the site of the AC45 Regatta in Newport, Rhode Island, Andrew acquired the necessary lead shot and assisted Bryce Ruthenberg with the placement of approximately 1.8kg of lead weight in a kevlar bag in the forward king post of OTUSA boat 4 (known as 'Oracle Spithill').
"The jury is comfortably satisfied that this conduct constituted a gross breach of a rule and of good sportsmanship, and that this was compounded by not telling the truth during the hearing."
Rob Walker said Andrew's brothers and sisters were also in contact.
"He's been in touch with them and been in touch with me. He's pretty bewildered as we all are and we just hope he can come through this without any damage."
Rob said this week's jury finding that singled out his son came as a shock.
"I can't believe it's happened to him. I've been sitting here in wonderment."
He said regardless of this week's events, as a former yachtsman he was still looking forward to the start of Cup racing today.
Rob said his son had been a loyal stalwart to Oracle for the last six years and was still dedicated to the team.
Andrew had been involved in boatbuilding and yachting for 25 years, he said.
This week, the NZ Herald reported that little was known about Walker in spite of his long tenure with Oracle Team USA. Most cup sources spoken to said he was a comparatively junior member of the shore team managed overall by Oracle's Mark "Tugboat" Turner, also a Kiwi.
The former Wellingtonian worked for Hakes Marine, a Lower Hutt company. Hakes Marine China has since been set up, based in Xiamen, with backing from Hudson Yacht & Marine.