All Black can see rugby facing similar legal challenges to those plaguing the NFL.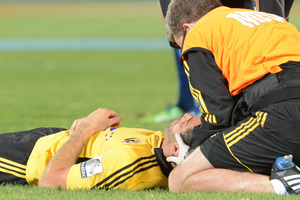 The recent decision by the NFL to make a near $1 billion out-of-court settlement with former players affected by concussion caught the interest of All Black centre Conrad Smith.
He's had a series of head knocks through his career, is a keen follower of American sports and a qualified lawyer active within the New Zealand Rugby Players' Association.
Smith isn't advocating a similar suit be taken to the New Zealand Rugby Union but there was an element of satisfaction to be had in seeing the issue of concussion being taken so seriously.
"I could see it," he said about rugby facing similar legal challenges. "I don't know whether it would ever get as far as it did over there. We have the whole ACC thing, so I don't know how that would effect it.
"But it is obviously an area where a lot of work will be done. I don't think it will go away in a hurry and nor should it. There is a lot to be found about it for all contact sports - not just rugby. I don't think this will go away for a decade or so."
Concussion has become one of the biggest issues rugby faces. Research out of the Aviva Premiership showed concussion was the most common injury last season, while this year in New Zealand there have been several high-profile players afflicted by serious head knocks.
Smith was one; he took a terrible blow to the head against the Bulls in early May, and Piri Weepu was another, being knocked unconscious when playing for the Blues against the Highlanders.
Both men were cautiously handled, given as much time as they needed before making themselves available for selection. This was in stark contrast to the shocking events during the third Lions test in Sydney when George Smith had a thunderous clash of heads with hooker Richard Hibbard. The Wallaby flanker was helped off dazed and confused, only to return five minutes later after passing the Pitchside Concussion Assessment.
There was mixed reaction to the sight of Smith playing on. He was lauded on social media for his bravery but plenty of medical experts and rugby followers were appalled that he was allowed to stay on the field.
In the days that followed, some alarming revelations were made. Former Scotland player Rory Lamont said he knew of team-mates who had cheated the test - they had deliberately set their baseline at an artificially low point so they could potentially reach it after being banged on the head.
Former IRB doctor Barry O'Driscoll claimed that he had resigned from the governing body last year in protest at the implementation of the Pitchside Concussion Assessment - the new law that allows players to be taken off the field for five minutes to be examined following a head knock. He said it was ridiculous to believe doctors could diagnose concussion in five minutes.
For a few weeks, debate raged about whether rugby really was changing attitudes towards concussion and implementing best practice medical advice.
"I think it has to be a positive that a few years ago no one would have blinked when George Smith came back on," says NZRPA chief executive Rob Nichol. "The fact it caused so much discussion is a positive."
Despite the protestations of O'Driscoll, the IRB has confirmed it will persevere with the concussion testing - reminding players that the test is not the sole arbiter: clinical judgement is still imperative as doctors can keep a player off the field if they suspect concussion.
The short-term management, however, is only part of the challenge. The NFL settlement was made because the plaintiffs argued their health had been compromised by concussion - that many were suffering the effects of early on-set dementia.
Personality disorders, memory loss, slurred speech and depression were symptoms of former players who had suffered repeated blows to the head. There is a growing medical lobby in the US who believe that multiple blows to the head can have accumulated effect. To date there has been no evidence to suggest rugby faces the same risks, although one neuropathologist in Glasgow, Dr Willie Stewart, recently found a former player who he felt was suffering from dementia pugilistica - also known as 'punch drunk syndrome'.
Dr Stewart predicted that the number of rugby players likely to suffer long-term damage from repeated head knocks would be low. "What proportion of players will be affected, how many times you would need to be concussed, how long after will it develop - these are questions we can't answer but we would suspect it will be a fairly low number but not a zero number."
Smith, having suffered a handful of concussions during his career, says he's interested in recent findings more than he is concerned.
"I read it all," he says. "I am quite fascinated by it. [American football] is a much a different sport when you look at the level of contact they have even in training compared with what we have.
"I know for myself with the concussions I have had that it is what happens afterwards rather than what you experience at the time.
"If I were to get a knock in the future and I start to get really bad symptoms following it then I would start to worry - what are the next 20-30 years going to be like but as I say, I haven't experienced anything like that."