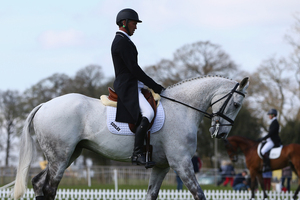 New Zealand's two in-form riders Jock Paget and Andrew Nicholson have put themselves in a strong position to challenge for the prestigious Burghley horse trials crown after the opening dressage phase in Lincolnshire.
Paget, riding Clifton Promise on which he won Badminton in May, leads the field of 65 in the final four star event of the Classics year after producing a top class test with 36.7 penalty points.
First day leader German Ingrid Klimke is second on FHR Butts Abraxxas with 39.0 points, while world No 1 rider Nicholson and his top horse Nereo lie third on 41.3 points.
In addition, Paget is also fifth equal on his second ride, Clifton Lush, while Nicholson is seventh on the horse he won Burghley aboard last year, Avebury, and equal 18th on his third mount Calico Joe.
New Zealand's other two Olympic bronze medal team members competing at Burghley, Jonelle Richards on The Deputy and Mark Todd on Oloa, are 12th and equal 18th respectively.
"I thought it was a better test than he did at Badminton," Paget said of Promise's performance.
"He was more consistent the whole way through."
Paget, who won the British Open one-day title at Gatcombe Park last month on Lush, acknowledged there was fresh pressure on him.
"It's certainly a new kind of pressure for me, but you put pressure on yourself anyway. I'm here to win and I'll do whatever it takes to try to make it happen."
Nereo, the last horse into the arena, produced a consistent performance, which pleased Nicholson.
"This was a step up from his test at Badminton, which had moments of brilliance and some more erratic moments. Today he was consistently better all the way through" said Andrew.
The cross country test tonight, which has 31 fences, will be a challenge, but Nicholson is confident of Nereo's ability to handle it.
"Nereo's tackled all sorts of courses all over the world. He prefers a big, galloping track as he's got such a huge stride and he has to work quite hard across the undulations here, but I'm sure he'll cope with it, as he's done before."
Standings after the dressage:
Jock Paget and Clifton Promise (NZ) 36.7 1, Ingrid Klimke and FRH Butts Abraxxas (Germany) 39.0 2, Andrew Nicholson and Nereo (NZ) 41.3 3, William Fox-Pitt and Parklane Hawk (Britain) 41.5 4, Paget and Clifton Lush, and Andreas Dibowski and FRH Butts Leon (Germany) both 42 equal 5, Nicholson and Avebury 42.3 7.
Also: Jonelle Richards and The Deputy (NZ) 46.2 12, Nicholson and Calico Joe, and Mark Todd and Oloa (NZ) both 48.3 equal 18, Todd and Ravenstar 55.5 equal 41, Richards and Flintstar 58.2 equal 53.