Most Team NZ families have been together since the Valencia campaign, but their numbers keep growing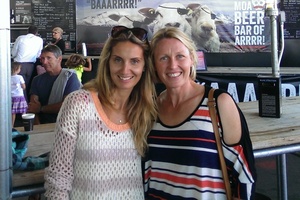 In the six years since Team New Zealand's last America's Cup campaign, their family support contingent has more than doubled in size.
As the Team NZ crew went into lockdown ahead of tomorrow's opening races of the America's Cup, their family and friends gathered for a family fun day at Moa Bar at the America's Cup Park.
With many of the families having been based up in San Francisco since May, keeping the young children entertained has proved a challenge for the mothers.
Suzie McAsey, wife of Team NZ grinder Chris, said many of the children tearing about the place are experiencing their first regatta.
"Most of the children have all come along since Valencia," said Suzie McAsey, "and the ones that were around in Valencia are now baby-sitting the younger ones.
"I actually don't know where they all come from really, we never see our husbands," she joked.
Former Olympic rower Sonia Waddell, wife of another of the grinders, Rob, said that with all but two of the current sailing crew having been together since at least 2007, most of the children had grown up together.
Like many of the other mothers in San Francisco, Sonia Waddell is home-schooling their three children, Sophie (10), Hayden (7) and Madeleine (5), through the NZ correspondence school.
While she said it was disruptive taking them out of school, the opportunity for them to live in another country was a great learning experience in itself.
"Most of the kids are at an age where the experience they are getting here is almost as important as being at school. It's just such a fantastic opportunity for them," she said.
Not to mention the technical sailing terms that have suddenly entered their everyday vernacular.
"They know all about foil-gybing and things like that. The kids are absolutely passionate about sailing."
Seeing his dad head out on the water every day has even inspired Hayden Waddell to take up sailing while he's been in San Francisco. He went for his first sail in an Optimist a couple of weeks ago, and has spoken of nothing else since, said his mother.
"He's just so into it, he absolutely loves it."
With the tension mounting ahead of the America's Cup match against Oracle, Suzie McAsey said the team had been surprisingly relaxed considering the stakes.
The biggest concern for Chris 24 hours out from the biggest race of his life was making sure he got down to weight. The collective weight of the 11-strong crew cannot exceed 1012kg, which averages out at 92kg per sailor, and while the burly grinders don't get anywhere near that, they still have targets they need to meet.