Dana Johannsen evaluates the Cup contenders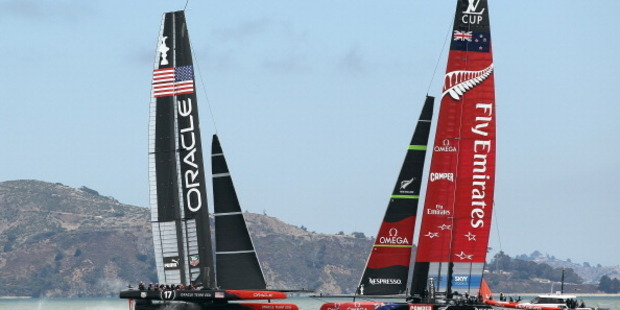 Oracle Team USA
Strengths
They set the terms
As defenders of the Cup, it is their rules, their regatta. Oracle set the terms for the boat race, opting for wingsailed multihulls, having built up a sound knowledge from the 2010 Deed of Gift challenge against Alinghi. They had the leap on their competitors from the outset.
Well-funded, well-resourced
Backed by billionaire Larry Ellison, Oracle have huge resources at their disposal and a great deal of manpower. While they try to play this down, their budget is much bigger than Team NZ's.
Two-boat testing
With their resources and manpower, Oracle have been able to run a two-boat testing programme over the past few months, allowing them to set up strong in-house competition. With Olympic great Ben Ainslie on the helm of the 'B' boat pushing Jimmy Spithill, the crew have arguably had a more competitive build-up to the Cup match than Team NZ.
They're super quick
While there are no accurate numbers available on Oracle's performance, the word is USA-17 is looking lightening quick. Their straight line speed may even be a click faster than Team NZ.
Weaknesses
Continued disruptions
Oracle faced a couple of major setbacks with their campaign early on, breaking some key equipment in their first few days on the water, before a catastrophic capsize in October last year kept the team shore-bound for three months.
Controversy and division
Their preparation took a further hit in the last month, with the jury investigation and subsequent hearings into their conduct proving a major distraction for the team. Oracle's sailing programme was disrupted while key members of the team dealt with the inquiry, while the uncertainty over the outcome of the hearing had a destabilising effect.
Team New Zealand
Strengths
Uninterrupted sailing
Having been the first to launch their boat and with no setbacks, they have managed to squeeze in more time on the water in the AC72s than any other team, notching up their 100th sail day in yesterday's final training run in San Francisco.
Experience on their side
In the exciting new AC72 class, which demands more athleticism of the sailors than ever before, Team New Zealand were initially scoffed at for being too old. But the AC72s are also complex pieces of machinery to sail, and the experience of the crew has proved a big advantage from that perspective.
Slick, well-drilled outfit
As one member of Luna Rossa put it, "the Kiwis just don't make mistakes". They have set the benchmark with their crew work and boat-handling and have their manoeuvres down to a fine art - an area that is looking increasingly likely to play a major part in determining the outcome.
Boat stability
We've seen in the build-up that both boats are extremely quick, but Team NZ look to have a more stable boat, and therefore able to maintain a more consistent speed.
Weaknesses
No competitive racing
Heading into an America's Cup match you would expect the challenger to be battle-hardened. But Team NZ were never really tested in the Louis Vuitton series, with the speed differential between themselves and Luna Rossa so great that they were rarely on the same stretch of the race track.
Great unknown
While Oracle had access to all of Team NZ's data from the Louis Vuitton Cup races and have been able to analyse their performance in great detail, the Kiwi team do not have any accurate numbers on how the Oracle boat has been performing.