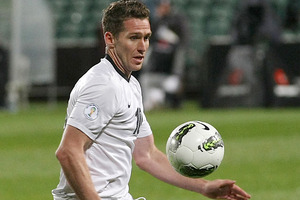 One win and the All Whites are into a final. New Zealand have reached the final of the OSN Cup four-team tournament after defeating hosts Saudi Arabia 1-0 in Riyadh this morning.
A strike from second half substitute Chris Killen was enough for the All Whites to set up a clash against the United Arab Emirates in Tuesday morning's final.
With temperatures into the mid 30s it was a heated match at times as frustrations showed from two sides which struggled in front of goal. At one point in the second half Chris Wood was on the receiving end of a head-butt, but like the home side on goal, it didn't have much behind it.
Ricki Herbert started a defensive lineup with four at the back as well as Phoenix defender Andrew Durante playing in the midfield and it meant the 107th ranked Saudi's had little chances on attack.
Conversely New Zealand had a number of opportunities in the opening half but just couldn't put them away. Kosta Barbarouses twice forced a save from Saudi keeper Waleed Abdullah while Chris Wood scuffed a shot on goal in the early stages of the match.
Saudi Arabia's defence was in shambles early on and they didn't look much better at the other end with their only attacking chances coming from counter attacks - none of which forced a meaningful save from New Zealand goalie Glen Moss. He wasn't needed until the 56th minute and wasn't tested again for another 20 minutes after that.
Midfielder Chris James made the most of a rare start with a solid outing and almost put the All Whites in front with a free kick in the 75th minute, with his shot curling over the wall and just over the top right corner of the goal.
Just three minutes later however Killen scored the winner after receiving the ball on the edge of the box from Barbarouses, he dipped a shot into the lower right hand side of the goal.
All Whites captain Winston Reid said it was a good win in the circumstances.
"When people are tired they had to put their hands up and we made substitutions at the right moment," Reid told RadioSport.
"And in general I thought it was a good performance away from home and in some tough conditions.''
In the earlier match UAE, ranked 84th in the world, defeated Trinidad and Tobago on penalties after it ended in a 3-3 draw.