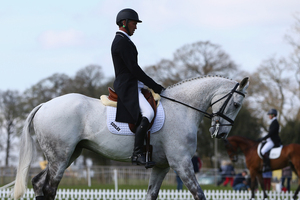 Defending champion Andrew Nicholson is well placed, if not the leading New Zealander, after the first day of dressage at the Burghley horse trials in England.
Badminton winner Jock Paget lies equal second on Clifton Lush after producing a score of 42.0 penalty points in the opening dressage phase. He shares that spot with German Andreas Dibowski on FRH Butts Leon.
The pair sit behind Germany Ingrid Klimke, a first-timer at the prestigious four star event, who was the only rider to get a mark below 40, managing 39.0 aboard FRH Butts Abraxxas.
However Nicholson, riding the horse on which he won Burghley for the third time last year, Avebury, is fourth on 42.3.
The Waikato horseman, ranked No 1 in the world, is also lying eighth aboard the second of his three entries, Calico Joe, on 48.3 points.
Two other New Zealanders performed their dressage test among the first 35 combinations on the opening day.
Mark Todd, who has won the title five times, is 21st on Ravenstar, after a score of 55.5, while Jonelle Richards - an Olympic bronze medallist last year in London along with Paget, Nicholson and Todd - sits 27th on 58.2 with Flintstar.
The second half of the field perform their test tonight and early tomorrow, with the first prize of stg60,000 in their sights.
The outstanding Nicholson has already wrapped up the FEI Classics series of six events, Burghley being the last, and pockets $US150,000 for his achievement.
The often decisive cross country phase will take place on Saturday at the famous estate in Lincolnshire. It comprises 31 obstacles and has been designed by Captain Mark Phillips.
''The cross country is one of the biggest tracks I've seen,'' Klimke said.
The horses must cover 6430 metres and there's an optimum time of 11min 30sec to complete the journey.
Nicholson rides his third entry, and best horse, Nereo, tonight, while Paget will be aboard Clifton Promise, with whom he won Badminton earlier this year.