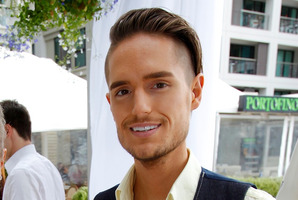 It's hard to imagine there will be many Kiwis cheering on Sir Russell Coutts' Oracle team as they begin their defence of the America's Cup against Team New Zealand on Sunday morning.
Sir Russell's latest blow-up over the penalties handed to Oracle for cheating in pre-cup regattas by illegally adding weight to their boats - which included a spray at the New Zealand media for manipulating the international jury - will have done little to enhance the former national hero's standing on his home shores.
But for Grayson Coutts, Sir Russell's son from his first marriage, there will be no torn loyalties when the big catamarans hit San Francisco Bay.
"Of course I support my dad," said Grayson, a former contestant on New Zealand's Hottest Home Baker who now works as a make-up artist. "Family comes first."
Grayson Coutts said he couldn't comment on his dad's reaction to the sanctions handed to the Oracle team, which included a two-race penalty, fine and the suspension of key sailors.
"Anything to do with him personally I can't comment on."
But he did say he understood why his dad might not be that popular in New Zealand right now.
"I guess everyone is entitled to their opinion but I support him 100 per cent. I'll be going over to San Fran next week to watch the finals."
The San Francisco Chronicle reported that Oracle chief executive Sir Russell was "astounded" by the jury's verdict and called the punishments "outrageous".
Challenger Emirates Team New Zealand still have to win nine races to take the Cup in the best-of-17 finals. Oracle, however, will have to win 11 to retain it. No other America's Cup boat had ever been punished as severely, the paper said.
"I'm astounded ... that they penalised the whole team for this," Sir Russell said. The punishment "sets an outrageous precedent ... Imagine an Olympic team, and one member infringes a rule. Does that mean the whole team gets penalised?"
He said the infractions were done without the knowledge of team management or skippers.