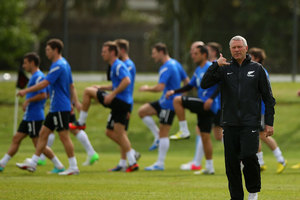 The audition for the final spots in Ricki Herbert's preferred All Whites starting XI kicks off in the desert heat tomorrow morning.
A couple of aspects will provide particular interest during New Zealand's match against Saudi Arabia in Riyadh - the centre of the park and the make-up of the defence.
Herbert has said he will judge the feasibility of playing a back four in the two-match OSN Cup tournament, while there remains a possibility for someone to nail down a spot as Michael McGlinchey's partner in midfield.
McGlinchey is missing from the squad due to the birth of his child, while Marco Rojas and Shane Smeltz are other first-choice players absent through injury.
Therefore the side that runs out at King Fahd International Stadium will have a different look to the team that takes the field in November's high-stakes World Cup playoff tie.
But, really, there are only two areas of indecision.
With New Zealand football bereft of a quality right fullback, it will be of no surprise if Herbert reverts to the tried and tested back three for the home-and-away encounter with the fourth-ranked Concacaf nation, especially if Andrew Durante's eligibility is eventually confirmed by Fifa.
But these matches - with tomorrow morning's clash against the hosts followed by a meeting with Trinidad & Tobago or the United Arab Emirates four days later - are the appropriate time to experiment with an orthodox back four.
Ben Sigmund or Leo Bertos, both of whom have manned the position for the Wellington Phoenix, are the prime candidates, with the former providing defensive solidity and the latter offering more going forward.
Captain Winston Reid and Tommy Smith will make up the heart of the defence and Tony Lochhead will play on the left despite still being without a club, meaning the right side is the only problem to solve.
If, instead of finding a solution, the position continues to be problematic, Herbert will have no qualms adopting the same 3-4-3 formation - which collapses to 5-4-1 when without the ball - he used in the successful 2010 World Cup campaign.
But even then, the third man at the back is still uncertain. Durante appeals as the obvious choice but, if Herbert decides instead to have him screen the defence as a holding midfielder, Ivan Vicelich could capably step in.
Vicelich plays there at club level and could easily slot back should Durante usurp his spot in midfield. The Australian ex-pat will soon get a chance to prove correct Herbert's hunch about his midfield abilities, if not against Saudi Arabia then certainly in the second game.
Behind those two natural defenders, there lies a bevy of other options to partner McGlinchey in an ideal starting XI. Jake Butler looks set to be selected tomorrow morning after an indifferent performance for New Zealand A against Jordan in June, and Chris James is another choice after playing holding midfield in Finland.
Aaron Clapham is unlikely to feature in Herbert's thinking given he was a late call-up to replace the injured Tim Payne, with the Blackburn Rovers youngster the most likely choice in November if Herbert opts against the safety of Vicelich or Durante.
Although there are no certainties in the All Whites' attack, either, that is a different situation to right back or central midfield, with a clutch of quality players competing for too few spots.
With Rojas and Smeltz on the sidelines, Kosta Barbarouses, Chris Killen, Chris Wood and Jeremy Brockie have the chance to stake their claim while Kris Bright, recalled from the international wilderness, is an outside chance of forcing Herbert's hand.
All Whites (from): Glen Moss, Jacob Spoonley; Andrew Durante, Tony Lochhead, Winston Reid (c), Ben Sigmund, Tommy Smith; Leo Bertos, Jake Butler, Aaron Clapham, Cameron Howieson, Chris James, Ivan Vicelich; Kosta Barbarouses, Kris Bright, Jeremy Brockie, Chris Killen, Chris Wood.
- APNZ