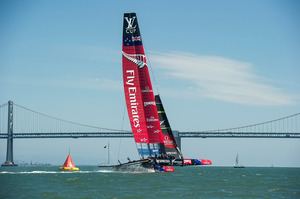 For Team New Zealand, yesterday's long-awaited jury decision on the Oracle Team USA cheating case warranted little more than idle chat over the coffee machine.
Over a month after the America's Cup measurement committee protested to the international jury after they discovered Oracle's AC45s had been illegally modified during the world series circuit, the saga came to a close yesterday with the jury imposing a series of penalties on OTUSA, including the docking of two race points.
The severity of the penalties are unprecedented in 162 years of America's Cup competition, but Team New Zealand boss Grant Dalton said the outcome has little impact on his team.
"Since it originally kind of broke three or four weeks ago, it has slowly but surely drifted into a non-issue for us, what would be was going to be," said Dalton.
"Other than read it, and a few comments around the coffee machine, it's really over and done with for us. It's not our problem, never was our problem."
Usually quick to stick the boot in when the opportunity presents itself, Dalton would not bite when asked whether he believed the jury had sent out a strong message to eliminate cheats from the sport.
"We can end up in and to and fro discussion [with Oracle] about the findings and messages or whatever, but it's not our issue," he said.
The jury decision has not changed the equation facing Team New Zealand, they must still win nine races if they are to get their clutches on the Cup; Oracle now have to win 11.
But the finals series is long enough that the fastest boat and best team will emerge the winners. In their summation the jury said the penalty they imposed would not effect the outcome of the Cup match, which "best be determined on the water", and Dalton agreed with that sentiment.
"If they have a speed edge, it will come through over that period of time. And you saw that with Luna Rossa, we had a nose-dive in race one and then the battery failure in race two, but we were just faster and you're eventually going to wear them down," he said.
Team New Zealand skipper Dean Barker said he fully supported the decision made by the jury, and applauded the way the panel handled their investigation into Oracle's conduct during the AC45 regattas. He is glad the matter has been put to rest ahead of the opening day of racing on Sunday.
"We're obviously very keen to get racing now," said Barker.
"It's going to be a very, very interesting first weekend to see how the two boats shape up."