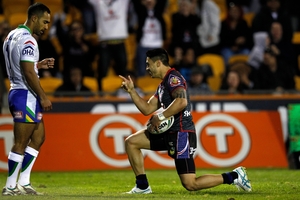 It's the only thing people are talking about and, ultimately the only thing that really matters, but the Warriors are trying to put playoff permutations out of their minds ahead of Saturday's game against the Dragons.
The Warriors are in 10th heading into this weekend's final round and need a lot of things to go their way to propel them into the top eight.
Firstly, they need to beat the Dragons in Wollongong on Saturday night _ something they have never done before - and then hope two out of three of the following happen: the Storm beat the Titans, the Wests Tigers beat the Cowboys in Townsville and the Eels beat
the Knights in Newcastle.
The NRL has thrown up some bizarre results this season but relying on the Wests Tigers or Eels is not something teams want to do given the two clubs have combined for only 12 wins this season and conceded a mammoth 1323 points between them. The Warriors, who have had a middling year, are gunning for their 12th win in 2013.
"It takes a strong mindset at times like this and... you have to work off the scenario you would most like,'' Warriors coach Matt Elliott said. "What we have to do is go away and perform well.
"We have some other things we are up against. No Warriors [side] has ever gone [to Wollongong] before and won [against the Dragons] and we have the opportunity to finish a season 12 [wins] and 12 [losses] and that sounds a whole lot better than 11 and 13.
"The alternative of not playing well, if you think about it for two seconds, there's a little dry retch that goes with that. We have got to go away and play our best footy.
"The challenge is to divert our attention away from the nuances [because] you can get distracted.''
The right mindset has been an issue for the Warriors all season and might prove costly in the end. They let too many games slip they should have won because of the wrong attitude and have been flat when they really should have been motivated to do well.
They should at least rewrite history by beating a very average Dragons outfit who have lost nine of their last 10, including six defeats on the trot.
One thing that should serve as a warning to the Warriors, however, is the fact their last victory came over the table-topping Rabbitohs _ July's 22-18 victory at ANZ Stadium.
Jerome Ropati is an unlikely starter on Saturday because of a hamstring strain and centre Dane Nielsen (ankle) needs to prove his fitness but should be OK to play.
Both will travel but Elliott has named an extended six-man bench to cover for every eventuality with Ngani Laumape and Vulcans winger Sio Siua Taukeiaho included.
The Warriors have won in Wollongong before, but that was in 1996 against the Illawarra Steelers before they merged with St George in 1999.
Elliott did the numbers this week and worked out that a win against the Dragons will see the Warriors sitting fourth over the second half of the season. It's an encouraging statistic and points to what this team is capable but, sadly, the overall table will paint the real picture.