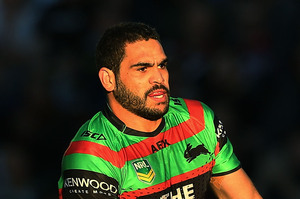 The longer South Sydney's NRL campaign lasts, the closer superstar Greg Inglis will be to delivering his damaging best.
That is the opinion of Souths coach Michael Maguire, who says that rest was never on the agenda for Inglis given his need for match fitness.
Especially when it comes to tomorrow night's clash with the Sydney Roosters, the final-round battle at ANZ Stadium that will determine the minor premiership.
The table-topping Rabbitohs dropped three games in four weeks while Inglis was missing with a knee injury, but his return has coincided with an upswing in form.
In a scary sign for opposition sides, Maguire said yesterday the big-game fullback was just warming up.
"Once you have that knee injury, the knee does feel a little unusual. It's about just getting used to the running," Maguire said of Inglis' torn posterior cruciate ligament.
"They're the sort of things he's probably had over the last few weeks.
"But he ran really well at training yesterday, it was probably the freest I've seen him move." Maguire dismissed the suggestion Inglis was in need of rest, as some pundits and commentators have said in the past few weeks.
"It was a no-brainer for myself in terms of letting him play," he said.
"You've got to remember he's had a month off, so getting a few games into him before finals is a positive for us.
"He's a great player ... and to have him out there brings us great confidence."
On the subject of Souths' potential to win their first premiership since 1971, Maguire said little.
But he didn't attempt to downplay the importance of victory over the Roosters, and the attached reward of the club's first minor premiership since 1989.
"Very much so [it's important]," Maguire said.
"It's a great milestone for the club, if we're able to get the performance right.
"We've got to get a few things right, because over the next month you don't get many chances."
- AAP