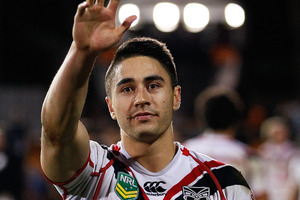 Shaun Johnson and the Warriors' best game of the season propped up faithful owners in Round 25 of Fantasy NRL.
Broncos 18 Knights 26
The star: Andrew McCullough (62pts) - The Broncos may have lost this game but all the fantasy points were on their side of the ledger. McCullough has been on fire of late, passing the 60-point mark in five of his past six appearances.
The dud: Sam Thaiday (29pts) - His lowest fantasy score of the year came courtesy of a yellow card. It's time to start thinking of sides who are in the playoffs, so Thaiday may no longer be relevant for your squad.
Value pick: Joseph BJ Leilua (50pts) - Leilua's had a couple of big games like this this season but has been largely irrelevant to fantasy players.
Tigers 18 Rabbitohs 32
The star: Issac Luke (63pts) - That's two big weeks in a row for Luke who seems to be peaking at the right time of the season for his owners.
The dud: Bryson Goodwin (18pts) - He's very cheap but widely-owned, so this was a disappointing week against a Tigers side who have leaked plenty of points to fantasy backs of late.
Value pick: George Burgess (36pts) - Not his biggest week of the year but he needs to be pointed out as one of the cheapest front row options going around that is likely to play right through the finals.
Warriors 50 Raiders 16
The star: Shaun Johnson (77pts) - This was bound to happen at some point this season, Johnson turned it on. Three tries, seven scoring kicks, 173 metres gained and three line breaks. By far his biggest fantasy day of the year.
The dud: Joel Edwards (22pts) - This was one of his worst fantasy days of 2013 for one of the best fantasy locks in our game. This game may signal the end of his relevance to your squad.
Value pick: Manu Vatuvei (54pts) - I advised owners to avoid Manu until he showed signs of life and those signs all came flooding through at once against the Raiders, so hopefully you didn't take my advice. Three tries, 233 metres gained and two line breaks made up his best day of the year.
Bulldogs 34 Panthers 14
The star: Kevin Kingston (55pts) - The Panthers were made to make more than their fair share of tackles in this one and Kingston was the beneficiary. However, he's another solid fantasy asset that will lose his value after the coming round.
The dud: David Simmons (4pts) - Simmons' recent good form left him against the Bulldogs and he's no longer relevant with another tough match up this weekend against the Sea Eagles.
Value pick: Trent Hodkinson (53pts) - He had a shocker last week but bounced back in a big way against the Panthers. For $165k he's a decent playoff half back for an in-form Doggies side.
Sea Eagles 28 Storm 8
The star: Matt Ballin (47pts) - For some reason this game just didn't generate a lot of fantasy points and a modest total for Ballin took out honours.
The dud: Cameron Smith (35pts) - To put this in perspective, Smith hadn't scored below 50 points all season. This was a major down-week for the Storm captain and a likely wake-up call for him and his side going into the playoffs.
Value pick: Brenton Lawrence (44pts) - These two sides' players don't come cheap so Lawrence, at $264k, held all the value in this one. However, he's not the consistent 40+ player you need in your front row so avoid him unless you're desperate.
Sharks 18 Cowboys 31
The star: Gavin Cooper (72pts) - This came out of nowhere for the Cowboys second rower and was by far his best fantasy day of the season. He's been s decent second row option of late so keep him on your radar if you trust the Cowboys' form.
The dud: Wade Graham (22pts) - He's struggled to post big fantasy scores of late so owners will be hoping the finals bring out the best in him over the coming weeks.
Value pick: Rory Kostjasyn (47pts) - With Ray Thompson out for the year, Kostjasyn is the new starting hooker for the Cowboys and could be the play of the next few weeks as he comes for just $87k.
Roosters 22 Titans 30
The star: Jared Waerea-Hargreaves (59pts) - In a losing effort, Waerea-Hargreaves was a defensive force for the Roosters with 48 tackles. He's a great option for your squads in the coming weeks.
The dud: Mitch Aubusson (19pts) - He's scored the most fantasy points as a back so far this year but not due to games like this. After making 42 tackles last week, he made just nine in this one. He'll bounce back for you if you can afford his $566k price tag.
Value pick: Ryan James (41pts) - He was big against the Warriors last week and performed again against the Roosters. This may be his last game of the season this coming weekend but he could still be worth a spot in your squad a cheap bench front rower.
Eels 26 Dragons 22
The stars: Joseph Paulo (58pts) - Paulo pulled out his best fantasy game of the season in a morale-boosting win for the Eels. Paulo could be a force next season if he retains the kicking duties and the Eels find some form.
The dud: Jason Nightingale (13pts) - Those who picked up Nightingale hoping for a big game against the Eels were sorely disappointed to instead end up with his equal-worst fantasy day of 2013.
Value pick: Pat O'Hanlon (43pts) - He's not worth keeping an eye on this season but it was a nice day for a $90,000 second rower.