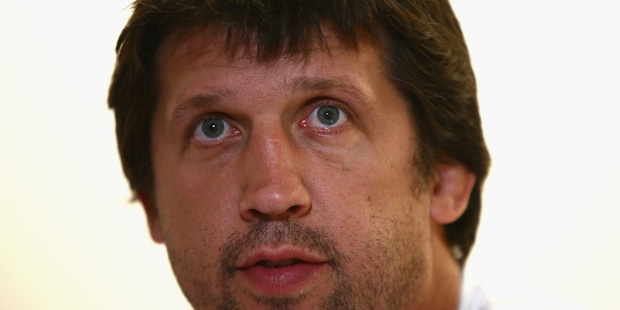 Argentina believe they can beat the All Blacks - just don't ask when it may happen.
The Pumas have beaten most of the major nations in world rugby and have pushed the All Blacks close on several occasions but have only a famous Hugo Porta inspired 21-21 draw in 1985 to show for their endeavours against New Zealand across 16 tests.
That record is unlikely to change on Saturday night in Hamilton but coach Santiago Phelan feels they can get closer in the coming years.
"Last year we played well [in Wellington] and we need to follow that,'' said Phelan. "It is very important for us to have such a high level competition, especially these six games [in the Rugby Championship]. It's very tough but that is how we improve and compete. Every time we go on the field with the Argentina jersey we want to win but the most important thing is to give 100 per cent and the result will be a consequence of what happens there.''
It's easy to forget now but Argentina's entry into the competition last year was meant to be like Italy's first foray into the Six Nations - painful and just a bit embarrassing. That comparison between the two Latin nations didn't hold up as Argentina threatened to be the cinderella story of the competition, holding their own for a long period on New Zealand soil, pushing the Wallabies to the brink twice and achieving a famous draw with the Springboks.
However, despite the hard won experience Phelan is also wary of the dreaded second season syndrome enveloping his side.
"It's good to be in the second year because we know what it is about and we know what is happening,'' said Phelan. ''[However] but it is also [tougher] because the other teams know us and they are always improving.''
On paper Argentina look to have named their strongest team of the tournament so far for Saturday's match. Captain Juan Martin Fernandez Lobbe (53 tests) returns to inspire the troops and first choice lock Manuel Carizza has recovered from shoulder injury sustained in the Soweto mauling against South Africa. One time Blues target Juan Martin Hernandez is also restored to the top XV, though he will play at fullback to make way for highly rated first five Nicolas Sanchez. Veteran Felipe Contepomi has been relegated to the bench, replaced by Santiago
Fernandez but Phelan said it was simply "rotation" through a long tournament.
15. Juan Martin Hernandez
14. Gonsalo Camacho
13. Marcelo Bosch
12. Santiago Fernandez
11. Horacio Agulla
10. Nicolas Sanchez
9. Martin Landajo
8. Juan Manuel Leguizamon
7. Pablo Matera
6. Juan Martin Fernandez Lobbe (captain)
5. Julio Farias Cabello
4. Manuel Carizza
3. Juan Figallo
2. Eusebio Guiazu
1. Marcos Ayerza.
Reserves:
16. Agustin Creevy
17. Nahuel Lobo
18. Juan Pablo Orlandi
19. Mariano Galarza
20. Benjamin Macome
21. Tomas Cubelli
22. Felipe Contepomi
23. Lucas Gonzalez Amorosino.