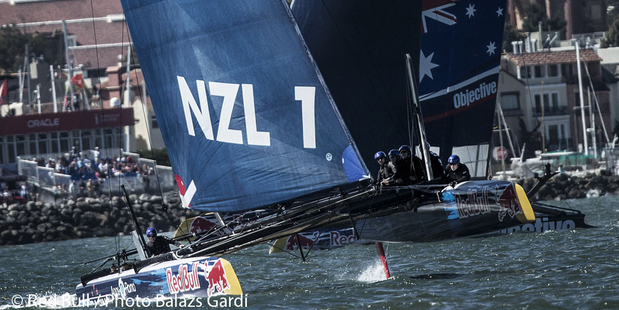 If only the America's Cup had been like this - seven boats jostling at the top of the ladder with only five points between them.
And Kiwis in the thick of it in a 10-boat, eight-nation tussle.
That's the scene at the Red Bull Youth America's Cup after four races (in two days) of close sailing with four different winners. New Zealand's 6-strong crew, skippered by Olympian Peter Burling, lead the way in NZL Sailing with ETNZ - the Emirates Team New Zealand-linked entry.
Burling, plus Olympic partner Blair Tuke, Jono Spurdle, Guy Endean, Andy Maloney, Sam Meech and Jason Saunders, are alone at the top with 30 points with the US's American Youth Sailing Force (AYSF) two points behind.
Switzerland's Team Tilt are third, just a point behind with the Artemis- inspired Swedish Youth Challenge fourth and New Zealand's other entry (Full Metal Jacket Racing, skippered by Will Tiller) in fifth place, the Portuguese in sixth - but all on 26 points.
The French boat, Next World Energy, comes next with 25 points.
Burling's has been the most consistent crew so far (no wins but a 2nd, 3rd and 4th) and won a protest after they slowed down for an overlong period after a misfunction of the penalty light on the boat for straying over the boundary. Australia's entry, Objective Australia, also seemed to suffer at the hands of the umpires, with a defective halyard breaking but they were unable to fix it and trailed in at the rear of the fleet on the first day.
Burling's NZL2 stalled on the line in yesterday's race, finishing 7th after pulling in a few boats on the 7-leg course. A better start in the second race saw NZL2 finish third.
"The second race was good," said crew member Endean. "A few things went our way and a couple didn't but it was pretty good. There were a few, let's call them freestyle manoeuvres, where they're not entirely planned but just fell into shape with a bit of pressure. There were a couple of situations where it all came together nicely."
Tiller's NZL1 claimed a fourth and a sixth yesterday to go with a win and a 7th from the first day. Michael Menninger's AYSF also won a race on the first day with Portugal and Sweden claiming yesterday's races.
The first seven races have equal points weighting with 10 points for 1st, 9 points for 2nd and so on. The final eighth race is worth double points. Unlike other regattas, teams do not drop their worst placing; all are counted.
"I think it'll come down to the last day anyway," said Burling yesterday, "so we're trying to build as a group and looking forward to each day as it comes."