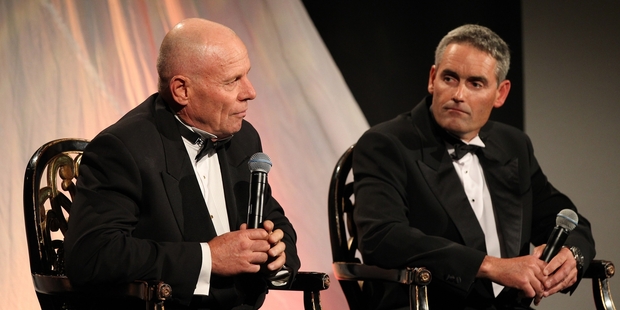 It sounds nigh on unbelievable but, almost on the eve of the America's Cup match between Oracle Team USA and Emirates Team New Zealand, the two Kiwi principals - Sir Russell Coutts and Grant Dalton - have never spoken to each other.
Not in any meaningful, one-on-one conversation, anyway. That strange fact, highlighting the sometimes bitter rivalry of the America's Cup, underscores the sailing which will start on Sunday (NZ time).
Each has more than 30 years of sailing experience. They have come down very different sailing paths - Dalton through round-the-world yacht racing; Coutts through Olympic dinghy sailing and then into the America's Cup.
"We don't know each other at all," says Dalton. "There must have been a few pleasantries expressed along the way but that's about it. I guess I must have sat around a table with him and with other people at meetings, but only once or twice.
"We come from completely different worlds. He's a dinghy sailor and I'm a round-the-world racer."
Dalton says the closest he'd come to direct contact with Coutts was their clash at a charity fundraising dinner in Auckland in May.
That was where Dalton played a 2010 video of Oracle billionaire backer Larry Ellison making bold forecasts for the 2013 America's Cup.
Most of them - including the contention that there would be up to 15 challengers - did not come to pass and, after the video, Dalton's opening line was the now famous quote directed at Coutts: "Mate, what the hell went wrong?"
That touched a raw nerve in the competitive Coutts and some insults were traded in a spicy encounter.
However, it must be unusual in the annals of international sport for the two leaders of arguably the two most powerful teams in the game to hail from the same country and yet know each other only through their rivalry.
It's impossible to contemplate, for instance, All Blacks captain Richie McCaw not knowing or having at least the odd one-on-one with his Australian or South African counterparts.
Or Black Caps skipper Brendon McCullum not having a chat with the England, Australia, Indian or South African captains.
But that is one of the allures of the America's Cup - this is the top level of the sport; a lot is riding on the outcome and passions run high.
If the cup changes hands this time, even that will not likely afford these two a chance to chat - the task of handing over the America's Cup usually falls to the commodore of the defending yacht club.