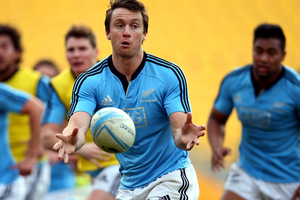 All Black wing Ben Smith says the rumours he will have to wear a "onesie" as a result of Otago's Ranfurly Shield loss are untrue.
But he still owes All Black fullback and former Hawke's Bay boy Israel Dagg a debt after losing a wager the two had with each other.
Smith fronted media today in Hamilton where the All Blacks will play Argentina at Waikato Stadium on Saturday night in the Rugby Championship.
Halfway through questions he was interrupted by a jubilant Dagg who quietly let out a "go the Bay" dig at his friend as he walked past journalists.
Serial tweeter Dagg was earlier spotted on the social media website today sporting a black and white onesie which led some to believe, Smith was due to wear it as a result of a bet the two had.
Smith, who said he wouldn't be wearing the onesie, admitted to hurting somewhat after his Otago side went down to Hawke's Bay 20-19 at Forsyth Barr Stadium yesterday in what was their first defence of the Ranfurly Shield.
"The Otago boys played pretty well I thought and it could have gone either way," he said.
"It was obviously disappointing it being a big week in Dunedin. (I was) gutted for the boys, they left it all out there and just couldn't quite get there in the end."
Smith said having the Shield for such a brief tenure had been good for the struggling Otago Rugby Union. The people of Napier are now preparing to welcome back the Magpies and will hold a victory celebration for their heroes at 3.15pm today.
"I was lucky enough to get down there on Sunday and to see the team taking it around," he said.
"During the week they had a few guys that were injured and they took it up around Otago country and everyone got to touch it and all the students were in there.... It was just awesome for Otago and it was great to finally get hold of that Ranfurly Shield, it had been a long time."
Smith said the Pumas were a more physical side than the Springboks and Wallabies and he was looking forward to the confrontation.
"You saw that in the second game (in Mendoza) against South Africa that they're a physical team and they just put everything out on the pitch."
"I think they will bring a lot of physicality and they're always pretty eager to put on a good performance."
All Black assistant coach Ian Foster said the Ranfurly Shield was still "pretty special" for large parts of the country and for teams that have had long absences without it.
"It's good to see it go to places that hadn't had it for a while and I think we have seen the joy in faces in the communities in the last week or so and we are about to see that again in Hawke's Bay," he said.
Foster said a number of players had responded well to niggling injuries having the last week off from playing.
He would not give much away but said both All Black five eighths Dan Carter and Beauden Barrett had trained well yesterday. Both had limited sessions and another light run today.