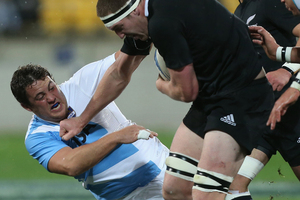 Sabbaticals and timeout in rugby get significant airplay in New Zealand but Pumas prop Marcos Ayerza just shrugs his sizeable shoulders and grins.
If he gets a month off a year he's satisfied as he juggles a club career with the Leicester Tigers in England and the commitments of Argentina in the Rugby Championship.
Ayerza and the Pumas arrived in Auckland on Saturday after their long trip from home. Then they travel to Perth to play the Wallabies before threading their way home via Sydney on an exhausting 24-hour journey.
It's all part of the global job for Ayerza, who's in his eighth season with Leicester, and the bulk of the squad who make their living in Europe.
Loosehead prop Ayerza used to work with countryman Martin Castrogiavanni and Dan Cole at Leicester and now Mako Vunipola, who was on the Lions tour.
Ayerza had an enforced break from matchplay this season with a shoulder injury but usually banks on just a four-week spell somewhere.
Europeans clubs wanted players back after this tour and with all sorts of competing itineraries, players were spending four or five months away from their clubs as well.
"It is a bit of a tricky one because we are contracted by the clubs, we have to play for them but we want to play for our country as well," he said.
"We are trying to adjust to the new schedule of international rugby."
Ayerza said it was a "tough call" for the IRB to look at the work schedules and rest periods for players and sort out ideas for the good of the game.
"It is one of the many challenges for the international player to cope with those timings.
"I am passionate about what I do, I love playing rugby and I know it is not forever. I know it is for some good years of my life and my career, it is a tough one but it is part of what we do."
The Pumas will have their celebrated captain Juan Martin Fernandez Lobbe back from injury for Saturday's test with the All Blacks. He is likely to play blindside flanker with Pablo Matera on the openside and Juan Miguel Leguizamon at No8.
Halfback Martin Landajo said the side had gained a lot of confidence from their close second test defeat to the Springboks and wanted to expand that work against the All Blacks.
Last season the Rugby Championship was new to the Pumas and this season, with the help of technical adviser Sir Graham Henry, they were hoping to consolidate and alter their traditional game.
"We are trying to play a bit more in attack," Landajo said.
"We know we have a good defence but we think it is not enough to win a game nowadays so we think we have to improve our attack.
"Graham Henry is helping with the simple things. He is not very complicated in what he teaches. He wants us to play more with the ball, simple but effective things."