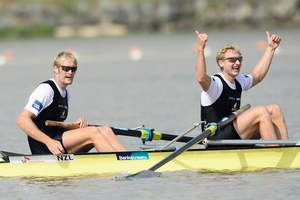 British rowing great Sir Matthew Pinsent says Hamish Bond and Eric Murray's record 16 straight international regatta wins makes them the best men's pair of all time.
However, the suggestion has to be read under a proviso of modesty.
Pinsent won four consecutive world championships and two Olympic gold medals in the pair with Sir Steven Redgrave from 1991 to 1996. His CV includes four Olympic and 10 world championship titles.
"It's hard [to stay motivated] coming out of an Olympic campaign - the biggest thing in our sport," Pinsent says. "They raced as well as I've seen here, doing that ridiculous thing after 200-300m where they come from almost last to destroy the field. I've never seen another pair do anything like it."
How important is it that they get consecutive Olympic golds like Pinsent and Redgrave?
"It's probably the only thing the rowing ghosts of Steve and I have over them, but it fell in place for us.
We got together in 1990, rowed one championships [bronze in Tasmania] then set off on our journey.
"These guys have a three-year wait for Rio which makes it a lot harder."
*Andrew Alderson travelled to South Korea courtesy of Rowing New Zealand's principal partner Bankstream.