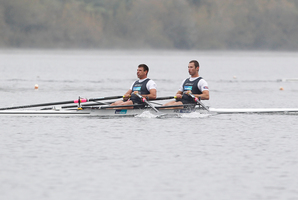 The performance of double scullers Robbie Manson and Michael Arms might be the tipping point for how the governing body fronts the assessors at High Performance Sport New Zealand when they're reviewed at season's end.
Rowing New Zealand high performance manager Alan Cotter says their target is four world championship medals, of which two - a gold and a bronze - came yesterday.
Manson and Arms, the women's double, single sculler Emma Twigg and the lightweight men's four can add more medals today.
The lightweights are the favourites from the quartet to make the podium; if so, it'll be the first medal by a New Zealand crew in that class at a world championships.
However, the men's double sculls is the best example of post-Olympic replenishment. Both came from the men's quad which failed to make the London final.
The 23-year-olds replaced gold medallists Joseph Sullivan and Nathan Cohen. Until Arms suffered a back injury in recent weeks, they had dominated the three World Cups. They finished second in their heat and semifinal at the world championships.
Interviewing the duo is like yarning to a couple of sheep farmers in a shearing shed while dunking gingernuts in your tea. They're relaxed customers.
Manson came to the sport via equestrian and observing younger brother Karl, who replaced the injured Nathan Cohen in the men's quad last week.
"I rode before I rowed. I wanted to go to the Olympics but it was so expensive, plus, with rowing, you have a lot more control; the harder you train, the better you go. It's not quite the same when riding."
Arms was head-hunted at an Auckland Grammar athletics day.
"I only got into rowing in the late third form after progressing through cricket, tennis and swimming. The rowing coach approached me because of my height [Arms is listed at 1.99m on rowingnz.com]. I didn't go along initially. Then it won me over."
The duo have been working under Calvin Ferguson, who coached the double to Olympic gold. He also mentors the men's quadruple sculls.
"Ferg treats us as individuals and knows how to get the best out of you," Arms says.
"He's handy on the megaphone, a bit like Dick Tonks in stretching out those syllables, 'eeeasy on the oars, niiice and relaxed'. He's been relegated to using a walkie-talkie on the embankment at the moment because you're not allowed coaching boats on the water at the world championships."
"If we get sick of him we can just change the channel," Manson quips.
It turns out a few pranks have gone on among Ferguson's charges.
"Nothing untoward," Arms insists. "I think the quad may have slipped a few soap suds in his toilet, or glad-wrapped the bowl to keep him on his toes."
Ferguson and sweep oar coach Noel Donaldson have collaborated, meaning the double has often trained with Hamish Bond and Eric Murray.
"They've been good to learn off," Manson says. "Unfortunately we have been unable to do it as much in the last few weeks with Mike's back injury.
"They're getting older and I think they like to live a bit of their youth through us by sharing knowledge," Arms says.
The double share rooms, boats and meals together but not the same taste in music.
"Nooo way," Arms says. "I'm not hugely into my music but Robbie loves singing along to Shania Twain and Cher. That's a good thing though; it means he's happy and we're going well."
Andrew Alderson travelled to South Korea courtesy of Rowing New Zealand's principal partner Bankstream.