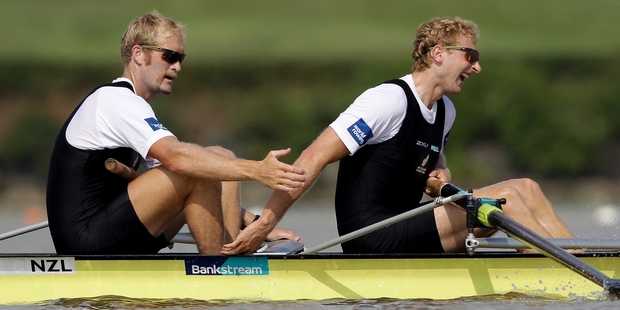 It wasn't so much what men's rowing pair Hamish Bond and Eric Murray said after completing a record 16th consecutive international regatta victory; it was the reaction of their peers.
During 15 minutes next to the New Zealand tent post-race, at least a dozen fellow rowers from around the world approached to ask for handshakes, autographs and pictures in an outpouring of awe.
There can't be many more satisfying rewards for the toil required in never having an off day in five seasons of competition.
Sure, there's the public adulation and endorsement deals that come with winning Olympic gold, but Murray says it's gratifying having those who go through the same pain looking to benefit from your aura.
"I've been in that position. It reminds me of getting back home last year and heading back to the communities that supported us. Without them watching, rowing's dead."
Few of their five world championship (four in the pair, one in the coxless four) have come in more emphatic style. South Korea was added to a passport of triumph which includes Germany (2007), Poland (2009), New Zealand (2010) and Slovenia (2011).
The atlas of achievement also includes World Cups in Germany, Switzerland and Britain as well as the London gold.
They triumphed by a margin of 6.76s (about three lengths) over France, with the Netherlands third.
New Zealanders in the crowd were treated to a blast of the Patea Maori Club's Poi E through the loud speakers to mark the moment before the medal ceremony.
Bond and Murray edged ahead at the 500m mark before extending that lead throughout.
"I put in a request yesterday [to the weather gods] for a head wind and my prayers were answered," Bond joked. "It made the race long and hard. They're the conditions we'd back ourselves in most."
Murray pinpointed the middle 1000m as the defining factor.
"That's been our forte where we build a speed unsustainable for anyone else. The others slowed and we maintained exactly the same splits [1m 39s for the final three x 500m]."
Bond said the record was a mark of their consistency.
"It's not easy to be up for racing every single time. Once you add in heats and semifinals, that makes for more than 40-times in a row. I think we've always been sure that even in our not-so-good races we were good enough to win. The key to success is a small variation in performance. The streak is a by-product of that."
"I don't think about it that much," Murray said after demolishing the contents of an ice-cold aluminium can - part of a stash he smuggled in to celebrate the end of the season. "We're probably as consistent as anyone over time."
The women's pair of Rebecca Scown and Kayla Pratt earned bronze in their first year together.
Britain eased to victory while a struggle ensued between Romania, New Zealand and United States in the latter half of the race. The Americans dropped off towards the end.
"Our start was slow, so we were catching up for the majority of the race," Scown said. "But we felt fit in the back end so knew we could push to make it back."
Pratt was thrilled with their middle 1000m.
"That's our strong point. We knew we had to claw it back there. I looked around at the 750m mark and the boat tipped a bit so I was like 'stay in the boat, stay in the boat'. That's when we started gaining on the Americans. Once we got level, they fell away."
The lightweight women's double of Lucy Strack and Julia Edward finished fifth.
Andrew Alderson travelled to South Korea courtesy of Rowing New Zealand's principal partner Bankstream.