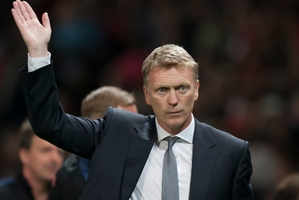 Before David Moyes' last trip to Anfield as Everton manager, his pre-match briefing was cut short by a question he did not much care for. "Why have you never won at Anfield?"
Moyes fixed a glare on the inquisitor, paused and replied in a monotone but deliberately agitated voice. "Because they have had a lot of good players."
He then stood up and made his exit.
Moyes was irritated because the query shadowed his Goodison reign, the anomaly he had no league victory in 46 visits to Anfield, Old Trafford, the Emirates and Stamford Bridge previewing every fixture.
If he thought he would escape the theme in his new position, he was mistaken.
There that damned probe was again ahead of Manchester United's trip to Liverpool, a theory requested as to why he was unable to bloody the nose of the glamour clubs as much on his travels as he regularly did on home soil.
"It was down to Liverpool having really good teams with people like Xabi Alonso, Mascherano, Torres at his pomp, Steven Gerrard," he said. "They were one of the teams that went on to win the European Cup. That's why it was very difficult to win regular games at Anfield because of the quality of the side.
"They had bigger finances than we did but when it came to the game it was 11 versus 11, that's what people judged us on and that's why the record there is poor."
Moyes' explanation is reasonable. Initially, Everton did not win so much at Anfield because they faced a Champions League side, assembled at much greater cost.
Criticism was more audible in the last three seasons, when Everton finished above Liverpool but were unable to assert superiority when crossing Stanley Park. An FA Cup semifinal defeat in 2012 was arguably his lowest point.
The suspicion has always been Moyes has a tendency to favour attentiveness over risk. "The only philosophy I have is to win," he said.
Brendan Rodgers watched United's 0-0 draw with Chelsea and although he believes it is ultimately the ability of players, not managers, who determine success, he said there was a palpable difference in attitude at Old Trafford without Sir Alex Ferguson.
"A manager can affect the attitude of his players," said Rodgers. "Look at the Chelsea game the other night. It was drifting towards a 0-0 and there wasn't really a murmur at Old Trafford. You know at the time Fergie was there he was probably going for the win so the crowd were near-enough expecting a goal at the end of the game."
Moyes needs to work on creating the same aura, but has never sat in the opposing dressing room at Anfield with as much weaponry to win as he possesses on Sunday.
For the new United manager, a win will be worth more than just three points. It will finally eliminate the nagging question stalking his managerial career.