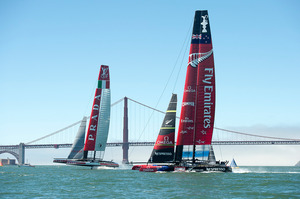 Luna Rossa skipper Max Sirena admits it was no easy task to convince his team to get back on the water this week and lend Emirates Team New Zealand a hand with their America's Cup preparations.
Ousted 7-1 in the Louis Vuitton finals, the Italian team were looking forward to packing up and going home, having barely had a day off over the past six months. But Team NZ were keen to get in some more practice racing ahead of the Cup showdown against Oracle Team USA, beginning one week today.
Sirena generously agreed. His crew and shore team took a bit longer to come around.
"I can tell you it was not easy to convince 80 people to keep going, especially to help the team that just beat you in the final," said Sirena. "But I think in the end everyone understood why we are doing it. The reality is we all need New Zealand to win the Cup and we must do what we can to help them.
"Without wanting to take anything away from the defender, we need to be honest, the reputation of this America's Cup has been very bad and we need to take some steps to go back to what made the Cup great like in Auckland and Valencia in 2007."
Should Team NZ get their clutches on the Auld Mug, Luna Rossa will play a large role in shaping the next event, with Sirena confirming his team will be challenger of record. There are no firm plans in place for what a future event might look like as Sirena said. Team NZ boss Grant Dalton "does not want to talk about the future until he has won in the present".
But the affable Italian is confident their visions will align on the important stuff.
"We had a brief discussion with them but obviously we want to help them focus on the America's Cup and then I'm sure we can find a good compromise between the two teams," said Sirena. "The main thing is we get the teams back and we get the sponsors back, we cannot have an America's Cup with only four teams again."
In the week since their challenge came to an end, Sirena has already been busily working to put together a strong team for the next event, wherever that might be. Traditionally, this has been the time in the Cup cycle when sailors jump ship, so to speak, as they look to secure their futures for the next event. This year is no different.
"The market is open now," said Sirena. "We will do a few changes, but obviously the idea is to implement them into the existing group. I will say the core of the group will keep going. Now is a little bit hard to make a call on timing until really the Cup is over."
One of his crew that isn't expected to return is British helmsman Chris Draper, who struggled in the match-racing environment. Draper had a mistake-riddled finals series and was often heard over the on-board microphones apologising to his team-mates. Draper said language difficulties posed a few problems on board and if he were to stay on at Luna Rossa he would make a real effort to learn Italian.
"There have been times on the boat when not necessarily emotions have been running high, but the situation has been slightly aroused and Italian kind of became the default language and I didn't know what the hell was going on."