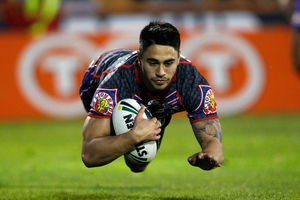 Shaun Johnson's performance against the Raiders last night was reflected afterwards by his body.
He had one good leg, one that didn't work so well (corked shin) and one good eye and another that was a little blurry and blotchy (his vision was affected when poked in the eye in the first half).
The 22-year-old playmaker was breathtaking at times, scoring what was being touted as the fastest hat-trick in NRL history with three inside six-and-a-half minutes.
He also chimed in with one try assist, four tackle breaks, one linebreak and seven goals from nine attempts for a personal haul of 24 points, which was only four short of the Warriors' record held by James Maloney, Ivan Cleary and Gene Ngamu.
Countering that, Johnson also gifted a try to Jarrod Croker when he mistook the referee for one of his own players, missed four tackles as Canberra targeted the Warriors' vulnerable right edge and was too much of a bystander when the game was in the balance.
"Personally, if I didn't score those three tries I probably would have had a dud game," a hobbling Johnson said with an ice pack on his shin. "There's still a lot I need to work on.
"We have to be better [against the Dragons next weekend]. I certainly have to be better. I'm very pleased I got the hat-trick but, apart from that, there are still a lot of areas I need to work on. Defensively I was very poor and that's the feeling I have at the moment."
In many ways, Johnson is a reflection of the Warriors. He is frustratingly inconsistent as he's learning his trade but he's also reliant on what the big boys do in front of him and how much room they give him to use his dancing feet and blistering pace.
Last night, three of the four bookends ran for more than 100m and the fourth, Suaia Matagi, lodged 92m.
Johnson's halves partner Thomas Leuluai is in terrific form and ran the show when his teammates needed him most. Johnson could learn a thing or two about how consistent Leuluai is from week to week.
The Warriors and Johnson, though, shouldn't feel down about their performances last night. Some of their play was of the highest quality and the halfback more than made up for any deficiencies.
"When all the boys are on the same page and sticking to our plan, it's really fun to be a part of," he said.
"I guess I was in the right place at the right time. It's something I have been trying to work on, pushing on the other side of the ruck and giving myself a chance to make a play. I was pretty frustrated with how things were going in the first half. I was a passenger watching the left edge carve up. I was happy I could contribute and really happy we got the win."
And that is always the most important thing. APNZ
- APNZ