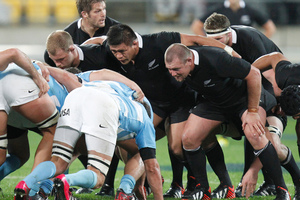 The Bledisloe Cup safely retained - now for the hard bit. Raising the level against Argentina then South Africa was something the All Blacks failed to do at the corresponding stage of last season.
It's a trickier business than it may appear. There is the contrast in styles between those two sides and Australia that requires the All Blacks to undergo not so much a major adjustment as a change of emphasis.
The Australians, although it may not look it, have a similar mindset, and in basic terms at least, a similar game plan to the All Blacks where they want to put ball runners into space.
The Pumas are all about the setpiece and collision and their scrummaging effort in Mendoza where they lost 22-17 to the Springboks was menacingly good. Argentina have their faults but scrummaging is not one of them and the contest under the new laws favours them.
The game in Hamilton will give the All Blacks one of their tougher scrummaging assignments this year and it might be that they take it on with changes in the front row.
All Blacks coach Steve Hansen said following the 27-16 win against the Wallabies that selection tweaks were possible depending on how the various walking wounded washed up in the next seven days.
"We'll probably look at introducing a couple of guys but it will really depend on how we come through the next week because we are a battered lot at themoment," he said. "When we've recovered,we can look at our selection policy."
A hamstring injury to Owen Franks may see a change at tighthead. Hansen has been consistent in regards to injured players-no one will be risked. So while Franks may be capable of playing, if there is any doubt, the preference will be to hold him back just to be sure.
Charlie Faumuina would start in his place, while they may throw Dane Coles into theNo2 jersey, now he's got more football behind him. Coles is still the player the All Blacks want to fast-track as their preferred younger option to veterans Andrew Hore and Keven Mealamu. Coles' mobility, contribution in general play and throwing have all been test class since he made his debut in November last year.
The question mark about his games its over his scrummaging. At 103kg, he's not big even by historic standards and the Pumas would be a stiff set-piece challenge for him to test himself. This is the year the All Blacks have said they are prepared to take risks and they need to find out a little more about Coles, exposing him to a range of opposition.
As much as the selectors would like to give Wyatt Crockett more game time, they will be equally reluctant to bench Tony Woodcock now that the newest All Black centurion is building momentum and better form after an injury-ravaged season. Woodcock's experience will also be useful if Faumuina and Coles are asked to start.
What Argentina will particularly fancy is that they can get some mileage on the All Black put-in. The Pumas have always taken pride in what they call the 'bajada' - a co-ordinated eight-man shove that comes on just as the ball enters - and the new laws make the attacking team vulnerable as the hooker now has to hook and momentarily take his foot off the ground.
"Because of the change in the rules and the matches in June against England, which weren't good, we're putting emphasis on the scrum," Pumas assistant coach and former test prop Mauricio Reggiardo said recently. "We want to recover it, it's the Pumas' DNA, Argentine rugby's business card."
It will be fierce in the set-piece and just as physical in the collisions and breakdowns where the Pumas can frustrate by how tight they play. They don't take many risks and they can hold the ball for an age, leading to frustration among opponents.
Argentina can throw in a little niggle as well to further unsettle, and retaining discipline will be critical. It's probable that Liam Messam, who is expected to be fit, will be brought back to the All Black blindside to counter the expected physicality.
Further out, the Pumas have in the past been expert at giving teams space on the outside only to chase them down. Last year, Steve Hansen suggested his side were guilty in the first game of chasing what he called "fool's gold". So to break the Pumas, the All Blacks will need to mix their options to find the right holes.
Dan Carter will presumably return to be the tactical director with Beauden Barrett on the bench, and a decision will need to be made about Ma'a Nonu, who has been battling an uncooperative ankle for a while. He's been able to play through the pain but the preference would be for him to find an appropriate window to get it fixed.
Ryan Crotty and Francis Saili will both be hopeful of playing should it be decided Nonu needs to be rested with the bigger challenge of South Africa looming.