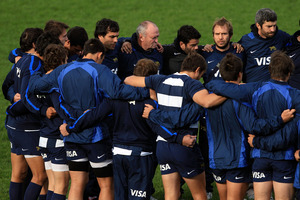 Sir Graham Henry had an effect on the Pumas after their mauling by the Springboks - and is continuing his efforts to make the Argentine team more ambitious.
While his technical adviser role is more about mentoring than running the side, the early lineout try against the Boks in the return match in Mendoza had his DNA all over it. He has also been working with the coaches on how to be more competitive at the breakdown.
Last year's involvement was more stop-start; this year, he will be with the team for the duration of the Rugby Championship. He returned home five days before the team but will be there when they hold their first training session this afternoon.
"Graham has been involved in so many tests that nothing is new to him and he is a great sounding board for us," explains former international prop and now scrum coach Mauricio Reggiardo on Henry's input.
The week before the second test was as hard as any other in Puma history.
"He wants us to go out and play and that has been an important mindset change for us."
Last year, in Wellington, Argentina passed the ball 40 times; the return game in La Plata saw them make 128 passes. It is hard to compare the recent games against the Springboks. They lost by 60 in Soweto but the deficit was reduced to five a week later.
A year after the Kiwis first saw their Rugby World Cup winning coach wearing a Pumas tracksuit, there should be no more of the moronic debate about Henry's loyalties. A black fern on his mobile confirms his allegiance but he is also a great asset to a developing Argentine programme.
While not condoning any skulduggery, Henry put in a good word on flanker Pablo Matera's youth and leadership future after he was cleared of eye-gouging.
Matera is adamant he did nothing. However, loose forward Leonardo Senatore was suspended for nine weeks for biting. With Los Pumas now in New Zealand, having arrived last night after a 15-hour flight to Sydney and then a shorter hop to Auckland, they must regain their full focus to ensure they are as ready as they can be when they face the All Blacks at Hamilton's Rugby Park on Saturday - a venue they have visited five times for five losses.
Since the start of this second Rugby Championship, no week has been the same; the two games already played were so dissimilar that it is hard to imagine what team will show up for the third round.
The week leading to the trip to Australasia was also dominated by the fuss over Matera and Senatore.
"We need to put all of this behind us and focus on what is a hard tour," said captain Juan Martín Fernández Lobbe after the team completed its last training session in Buenos Aires.
Having missed the two tests against South Africa, he is "100 per cent fit and ready to play".
"Argentina had a very bad first round but managed to turn it around for the second. The goal of the tour is to continue to grow with every game and that isn't necessarily about winning. Our aspiration is to have a winning mentality, to control the game and try to play to our strengths."
Fernández Lobbe will be playing his fifth test against the All Blacks and knows that he'll be facing the best team in the world: "The way the loose forward trio complement each other is a joy to watch."
Considered one of the best flankers in world rugby and a recent Heineken Cup winner with Toulon, the Puma captain (nicknamed Corcho; Cork in English) has sufficient confidence to play against the All Blacks.
The Pumas' strength used to be a never-give-in mentality - but that disappeared in Soweto's Soccer City a fortnight ago, with a below-par performance, arguably even worse than the 93-8 loss to New Zealand in 1997, Argentina's record defeat.
A prop on that sunny, windless, un-Wellington-like day, Reggiardo won't compare those two unforgettable games. He will say: "The 1997 All Black team was probably one of the best in history, and this current team is getting close to that. Playing against the All Blacks is like playing against Roger Federer or Rafael Nadal. You play them 100 times and you might win one; so we must go on to the field thinking it is the day."
Argentina has been a recognised scrummaging side for ages but had lost that edge in recent years. Reggiardo believes the new engagement rule should benefit his team.
Before that, referees need to be consistent. The Springboks constantly put their feet up before the ball was introduced. And the All Blacks "are very cunning in the scrum".
"They were the team that promoted these changes through Mike Cron so they've been ready before the rest of us. This new scrum is what we need to build a platform from."
With news that one or more franchises could be opened in Argentina from 2016, Saturday's test is the ideal opportunity to showcase some Puma talent. Nine players are based in Argentina - Felipe Contepomi and maybe Julio Farías will retire from international rugby at the end of the year - and five are currently out of professional contracts.
Of the young blood available, lock Tomás Lavanini trained with the Chiefs in July with a view to joining them next season. At 2 metres and 125kg, he should see action from the bench.
Flanker Matera, also 20, has been probably the best in the two early Rugby Championship tests.
He swears he made no intentional contact with the eye area of François Louw; the experience will have taught him a huge lesson. Playing against Richie McCaw or Sam Cane will be another step in the right direction. If he can prove himself in Hamilton, his potential will be confirmed.
Argentina has never beaten the All Blacks and it might not happen this year. But one day it will happen and we will credit all those early Rugby Championship games.