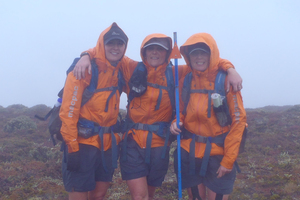 Team Girls on Top are the most experienced of the three Kiwi teams taking on the 2013 Expedition (XPD) Adventure Race next week, an 800km course in the Australian Outback.
"This is the sixth XPD Adventure Race Girls on Top have competed in," said proud team captain Debbie Chambers. "We haven't missed one since 2005, so there was no way we were not doing the South Australia edition."
The 46-year-old has been adventure racing since 2000. The team's experience across the Ditch helps them prepare for what they are in for.
"As we well know from other XPD events, Aussie is notorious for its creepy crawlies, weird plants and active night-time wildlife so we will be keeping an extra eye out for hazards - particularly overzealous 'roos at night trying to knock us off our bikes."
The adventure promises 10 unforgettable days for Girls on Top.
How is your team feeling ahead of the race in South Australia?
We are looking forward to getting together and getting to the event. Getting to the start line of these events is half the battle. We need a lot of gear and equipment, and need to be reasonably well organised.
Do your mates think you are mad taking something like this on?
Yes, our friends and family do think we are mad but when people see the amazing places we get to go and the amazing things we get to do then I think they get it.
What expectations do you have for the the Flinders Ranges?
It is hard to know what we will come up against in terms of terrain and conditions. However, we are assuming there will some challenging sections across salt lakes and some wide-open vast expanses of land. Our main concern will be looking after our feet, ensuring we are well hydrated and able to manage our fluids, and that we don't get too cold at night.
In terms of scenery, we are expecting some pretty amazing vistas as we move through the Aussie Outback. We imagine the sunrises and sunsets will be something else.
How much training have you done?
Adventure racing is as much about endurance, skill, teamwork and strategy as it is about physical fitness.
Our training has consisted of up to 20 hours a week of biking, trekking and kayaking. We have also done a couple of weekend sessions such as an overnight 16-hour tramp in the Kaimanawa mountain ranges with no stops. Girls on Top have been racing since 2005. In the past two years the team has raced in Tasmania, Switzerland and Queenstown.You only find out the course 24 hours ahead of the race.
How can you best prepare without knowing where you are going?
We know the distances and the disciplines, so as long as we are prepared for that then that's all we can do. We know we will travel 100km by kayak, 400km by bike and 200km on foot. We know we will be out in the elements for at least seven days, and we will need to be prepared for all weather extremes.
We also know we will be pushing our minds, bodies and souls to their limits.
Do you fancy your chances of contending for the title?
There are so many variables in this sport, and so many things that can go wrong to spoil your chances making it to the finish line ranked and in one piece. Contending for the title never enters our minds.
Being involved in adventure racing must form lifelong friendships?
This kind of event either forms amazing lifelong friendships or you realise you never want to see your teammates again.
The things you get to experience with your team over the week of racing are pretty intense and pretty special. It is an incredible feeling crossing the finish line with your team intact. If all goes to plan, the friendships and bonds formed during an adventure race are bonds for life.
What are you most looking forward to in this experience?
Having a seamless race, enjoying some incredible scenery, pushing ourselves to our full potential and being out in the outdoors non-stop for seven to 10 days.
There is nothing better than having the freedom to roam the wilderness day and night without having to go indoors.
How do you deal with the lack of sleep?
Sleep monsters are part and parcel of any expedition-length race.
It is like some force is trying to shut your eyes and turn your mind off so your body and mind can have the rest they crave. From my experience, you get better at managing sleep monsters but every adventure racer will have experienced them at some point. We fight off the sleep monster by screaming, singing loudly, hitting ourselves and even talking directly to the sleep monster, telling it to go away and leave us alone so we can focus on the task at hand.
Basically, it gets to a point where you can't fight off the monster and you need to take a power nap (10 to 20 minutes) or have a decent block of sleep - usually two hours.
Hallucinating is another common occurrence in long races. We have had some pretty scary moments with sleep deprivation. We don't wish to ever go to those places again.