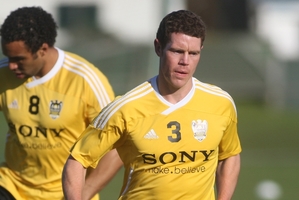 A lot of things hinge on the outcome of November's World Cup playoffs, including New Zealand Football's bank account, but they will also play a significant role in Tony Lochhead's future career.
The 31-year-old is in the unusual position of being a regular when it comes to international football but doesn't have a club side.
It's not unprecedented - Simon Elliott didn't have a club when he went to the 2010 World Cup - but it's highly uncommon.
On Wednesday the left-back was selected in an 18-man All Whites squad to play in a four-team tournament in Saudi Arabia next month and, short of being injured or horribly out of form, is virtually guaranteed a spot in the squad to face the fourth-placed team from North and Central America in November for a place at next year's World Cup in Brazil.
Lochhead played a record 130 games for the Wellington Phoenix but was let go at the end of last season after the arrival of new coach Ernie Merrick and hasn't been able to find another club since.
He contemplated playing in the Victorian state league and had some interest in the US, where he began his professional career, but a leg fracture picked up in the second-last game of the A-League season meant those options fell over and by the time he regained full fitness it was too late in the respective seasons.
Another ingredient is the fact his wife has a settled job in Wellington.
Lochhead is still approaching his football like a professional - he trains every day with the Ole Academy in Porirua before a gym session in the afternoon - just without the salary.
He could play for Team Wellington but the ASB Premiership season doesn't start until November and has offers to play in the US in 2014 but it doesn't solve his predicament and he will consider all options, including retirement, at the end of the year.
"I'm in no man's land at the moment," he admitted. "I'm just trying to train and keep fit and do the best I can to be in the mix for that World Cup squad. Obviously it's not ideal but there's not a lot I can do other than what I am doing.
"A few things have popped up and then fallen over. It's been a funny time and I will reassess things after November, whether I'm in the squad or not."
All Whites coach Ricki Herbert is relatively unconcerned about his lack of football.
"Is there a better left-back in the country?" Herbert asked. "I don't think so. He needs to perform but I'm confident we are making a good decision with him."
- APNZ