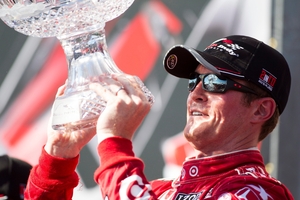 If New Zealand IndyCar driver Scott Dixon wins a third Indy Racing League title this year, he's eminently qualified to think it's probably his hardest fought title. This season Dixon has been the epitome of points-mean-prizes by sucking up the bad times and making the most of the good times.
Early on in the championship race the Kiwi was over 100 points behind the series leaders, and while he might have been a bit miffed at being that much off the pace, he never contemplated giving up.
In an earlier Herald interview with his teammate Dario Franchitti, the Scot said, "To win an IRL title you have to go through Dixon." At last weekend's race at Sonoma, California it was Dixon who unfortunately almost went through another driver's pit crewman on his way to a certain victory.
As in most things there are two sides to any story. For Dixon to get pinged with a penalty that saw him finish the race in 15th, and the team of the crewman who was equally to blame get hit with nothing, will certainly make this weekend's race in Baltimore, Maryland interesting to say the least.
"Obviously I'm still going to be a bit pissed about what happened and the rules have to be a lot clearer," Dixon told the Weekend Herald on the eve of this weekend's race.
"The pit boxes weren't clearly defined and they use such grey terminology to set the penalty, which is ridiculous. It would have been easier to move on from what happened if it was clear exactly what the offence was.
"It's not an area [pit boxes] that gets much attention but it can cause a lot of grief if someone does something wrong. That's what I was so angry about. Everyone was at fault but I was the only one who got a penalty.
"It's pretty hard to get around moving objects. He [Penske tyre changer] was as much to blame as me if not more. He didn't get disciplined for anything he did wrong."
Devoid of podiums for around half of the season, Dixon has been on a charge recently, winning three of the last four races heading into Sonoma and he had closed within 31 points of championship leader Helio Castroneves.
Last weekend's fiasco may not have put paid Dixon's charge for another series title, but it has seen him fall a few points further back behind the series leader. With four races to go in the championship it's all coming down to the wire with Castroneves, Dixon and Ryan Hunter-Reay all in contention.
"It should be a good weekend, Baltimore is a fun track. I just wish they'd do something about that stupid chicane on the front straight, which we've all been hoping for for some time.
"They have made some improvements from last year and it's a lot smoother now. I've done okay around with two top fives and the car was very quick there last year," said Dixon.
At least this weekend actual pit boxes will be painted on the track clearly delineating exactly who owns which bit of refuelling and tyre changing real estate, unlike Sonoma where it was all a bit blurred about who should be where.
"This weekend should be a lot better as we're on a road course where the pit boxes are clearly laid out unlike an oval which is marked out for Cup cars [Nascar].
"But what people don't seem to realise is that everyone uses everyone else's pit boxes to get in and out. If you didn't you can't get in or out. If the rule says you can't cross into someone's pit box, then everyone in pit lane should be getting a penalty. I don't get it."
With four races to go in the series there's more than enough points lying on the table for Dixon to make a final push to win his third championship. It's going to be a fierce battle all the way down to the wire and on current form you'd be hard pushed not to put your money on the Kiwi.