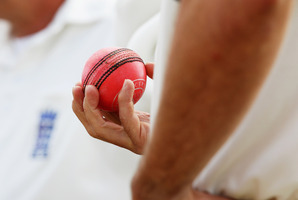 Australia have been going through a wretched time in England of late, a bare T20 win over their hosts at Southampton yesterday notwithstanding.
One of the recurring images out of the Ashes series was the consistently sold-out grounds. Selling test cricket tickets in England is not a problem.
But in Australia that's not the case, and so you certainly can't fault the Australians in their latest proposal to get the test turnstiles whirring again. With New Zealand part of their plan for day-night test cricket, this side of the Tasman should also take particular interest. Sport comes up with weird and wacky ideas all the time. Just in cricket, remember the understandably short-lived super sub 12th man from 2005 for a start.
This one, however, has been a long time in the planning and there's a serious desire to try to make it work.
It is also an idea which has plenty of oxygen due to the fact that officials recognise something must be done to arrest the slide in match attendances, just about everywhere in the test-playing world.
Trailing a pink ball is nothing new. Orange was tested at one point, channelling the image of a giant Jaffa hurtling towards the batsman.
So far, through several experimental stages, and taking into account a range of tweaking the ingredients, it has largely proved a dud, the ball unable to wear in the usual manner or retain its colour.
Among the complaints during the developmental phase were that when the ball hit the pitch the paint simply chipped off.
However, the latest samples are evidently more impressive, and certainly encouraging enough for Cricket Australia to speak out on the idea of hosting New Zealand in late 2015 in the first day-night test.
Then there's the issue of dew on the ground in early-mid evening, although Australia won't have that problem to the extent New Zealand will.
New Zealand Cricket knows that but will have it reconfirmed when it starts conducting its own tests with an eye on a future which could include tests starting about mid-afternoon.
But best not be members of the doom and gloom society.
NZC chief executive David White said yesterday that the players would be consulted, trials would be staged, most likely during the 2014-15 Plunket Shield season - although there's a pile of overs to be bowled before that strategy is inked in - and all relevant information would be sifted.
That said, this is one of those experiments where the rule must be, if it can be done, it should.
There's a commercial aspect well worth investigating, too. Think broadcasting and New Zealand's unhelpful time zone, at least in daytime cricket hours terms, when set against the financially important parts of the cricket world.
There's no point arguing that while crowds will go to watch limited-overs internationals at night, they won't for the more sedate, measured five-day version.
It needs to be put to the test before being written off.
Certainly a test against Australia under lights at, say, the 'Gabba in Brisbane in a couple of years is an intriguing prospect.