Four more NZ crews progress after finishing second in semis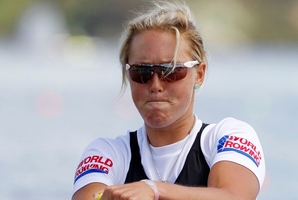 Seven finalists out of 14 crews looks a lot better than three out of 10.
The New Zealand rowing team injected their world championships campaign with some expected but required pep yesterday by adding four further finalists to the three who went through the previous day.
The men's lightweight four, men's and women's doubles and single sculler Emma Twigg progressed. Each crew finished second in their respective semifinals.
A powerful British finish pipped the men's lightweight four of Curtis Rapley, Peter Taylor, James Lassche and James Hunter by 0.63s. The Kiwis led through the 1000m mark before the Brits surged. It's the first time they've been beaten since forming at the start of this international season. The result promises an exhilarating rematch tomorrow.
The New Zealand crew won all three World Cups which put traditional lightweight favourites Denmark, Britain and France on notice.
Twigg eased to second, 4.81s behind Australian Kim Crow whose form looks daunting ahead of the final. Czech Olympic gold medallist Mirka Knapkova won the other semifinal but Twigg is on target for a third world championship medal.
The men's and women's double races drew a number of parallels.
Both crews - Robbie Manson and Michael Arms in the men's and Zoe Stevenson and Fiona Bourke in the women's - finished second behind Lithuania boats by about a length.
Arms' back problem kept him out of the boat in the lead up after the crew returned unbeaten from Europe. They made a slow start yesterday and could not recoup the deficit late.
On the upside, Arms said his back has repaired.
"It's loose again. I'm managing it alright and able to give each race my all. It's just a shame I haven't been in the boat before this regatta sharpening it up."
"I think that was our hardest race this season," Manson said. "I wouldn't say we're on form, we struggled a lot in the build-up with Mike's back. We're giving it everything we've got and going as fast as we can, but it hasn't been ideal.
"Still, it's my first world championship final so there's nothing to lose."
"Some of those other crews have definitely picked up amazing speed over the last three or four weeks," said Arms.
"It's nothing too scary. We're moving in the right direction, the semifinal was an improvement on our heat but we're still quite a way off our best. We'll have a series of short sharp rows tomorrow [today] and nail it on Sunday."
A surprise came in the first semi where Britain, who had beaten New Zealand in the heat, finished fourth and failed to progress. Norway, Germany and Argentina advanced.
Stevenson and Bourke remain prospects for a medal after finishing second in a strong field at the World Cup in Lucerne. They have gone quietly about their work but while Britain beat them in the heats they could force out the likes of Germany, Denmark and Belarus (who they duelled against in the semi).
The successful quartet of New Zealand boats join both pairs and the lightweight women's double in finals action.
The latter three crews race this afternoon.

• Andrew Alderson travelled to South Korea courtesy of Rowing New Zealand's principal partner Bankstream.