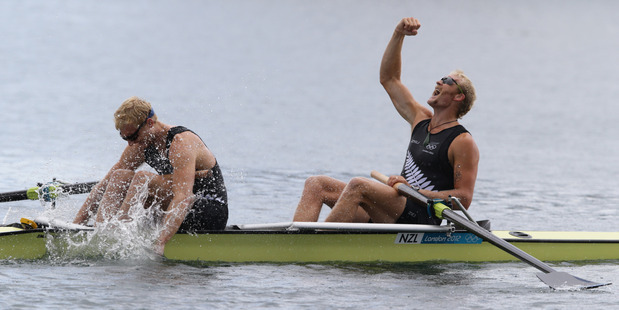 Historians, psychologists and physiologists will one day ponder why the Hamish Bond-Eric Murray phenomenon worked with such aplomb. Only the two blokes in the boat will really understand the minutiae of how they established such a rare sequence of victories.
Everything else will be speculation until their autobiographies hit the shelves but hey, speculation's fun. It helps fuel the sports media industry.
In essence, what aspiring rowers need to know is that regardless of how diverse the personalities, they can always make it work.
The pair are on the cusp of a record 16th straight international regatta victory. They're not the biggest crew and don't live in each other's pockets off the course, but a common determination to row a myriad kilometres on Lake Karapiro in training has been relentless and rewarding.
They're workmates. Sure, their office is a lake rather than a grey partitioned cubicle and they loosen lycra rather than ties at day's end, but they are doing a job. Afterwards Murray heads home to wife Jackie and son Zac; Bond returns to partner Lizzie and the construction of their new house. Bond is working towards becoming a financial adviser; Murray is a savant in the building of rowing skiffs.
Murray once offered a guided tour of the boat-building factory where he worked in his downtime. Employing trademark enthusiasm, he turned what could have been a dusty trek around a factory floor into a captivating experience. He brought the story of each boat to life, much as he does with the pair's vessel on the race course.
That joie de vivre threads through his career. He was the first to don lederhosen at Munich's Hofbrauhaus when the coxless four won at the 2007 world champs; he commissioned the pair's Faceboat fan club concept in 2009; and who else but Murray would be the genius to discover the old New Zealand 50c pieces were exactly the same size as five Swiss francs (you do the maths next to the vending machine). He is the crew's creative director.
In contrast, Bond is director of operations. He needs all ingenuity to have a practical application. It's no accident he has assumed the stroke seat in his catalogue of successful crews over the years.
Acknowledged as the ultimate competitor, Bond has the composure of an astronaut at T minus zero on Cape Canaveral when the going gets tough. In March 2009 while eating a tin of cold baked beans at Lake Karapiro - for the energy, not the flavour - Bond was asked whether he had any trepidation about entering a men's pair with Murray. They faced what on paper looked daunting opposition, including British Olympic coxless four gold medallists Andrew Triggs Hodge and Peter Reed. Unblinking, Bond responded: "Hopefully we can give them a nudge ... I'd be disappointed if we weren't pushing them."
So it has proved. It's as if he knew then what we know now.

Bond and Murray - timeline of success
Hamish Byron Bond
• Born: Dunedin
• Age: 27
• Circa 1998 (rowingnz.com): Begins rowing. First coach at Otago Boys High School, Fred Strachan, says Bond was so skinny he thought he must want to sign up as a coxswain. Through 1999: As a third-former, comes under the guidance of seventh-former and future international crewmate Carl Meyer at OBHS.
• July 2005: Finishes 11th at under-23 world championships in the Netherlands, stroking a coxless four. Member of the junior eight the previous two seasons.
• March 2006: Strong national championships with Meyer sees them selected in elite coxless four with Murray and Selwyn Cleland. Bond sits in the bow, Murray is stroke.
Eric Gordon Murray
• Born: Hastings
• Age: 31
• Circa 1997 (rowingnz.com): Begins rowing. Described by first coach Charles Haggie as a "roly-poly young fella" who lost his first race by 500m.
• August 2003: Races first world championships at elite level in Milan as part of coxed four. They finish fifth.
• August 2004: Attends first Olympics with coxless four. The crew, including Mahe Drysdale, finishes fifth.
• September 2005: Watches on while teammates take four golds in 45 minutes. Coxless four finishes sixth.

Together in the coxless four
August 2006: Finish in dead heat with the United States in world championships semifinal at Eton Dorney. Lose consequent race-off and finish third in B final.
March 2007: Bond moved to the stroke seat, James Dallinger replaces Cleland.
June 2007: Haul a length off the Dutch favourites in the final 500m at Amsterdam World Cup. Serves notice of their ability. Coach Chris Nilsson admits years later that when Bond and Murray raced as a pair in training they "were in a class of their own".
July 2007: Inflict the first loss on British crew in 27 races, albeit in a semifinal, at the Lucerne World Cup.
September 2007: Become the first New Zealand coxless four to win a pinnacle event in 23 years at the Munich world championships. Their 1984 predecessors won Olympic gold.
August 2008: Can't replicate the previous season's form. Miss out on the Beijing Olympic final. After a break recovering from the disappointment, Bond and Murray form the pair.
Together in the coxless pair
June 2009: Dick Tonks takes the coaching reins and they achieve immediate World Cup success at Munich. Beat favoured Brits Andrew Triggs Hodge and Pete Reed. Win No 1.
August 2009: Secure world championships in Poznan. Win No 3.
November 2010: Triumph in one of the all-time great world championship races on Lake Karapiro. Beat the Brits by 0.32s after their rivals led the whole way. Win No 7.
September 2011: See off a 14th consecutive challenge from Triggs Hodge and Reed to take the world championships in Bled. Brits return to coxless four for the Olympics. Win No 10.
July 2012: Pair rated the hottest favourites across British bookmakers for any Olympic event. Their odds are shorter than those of Usain Bolt and the American basketball team.
July 2012: Win Olympic heat in world best time of 6m 08.50s, taking 5.73s off previous best set 10 years prior.
August 2012: Achieve one of the most convincing gold medals in New Zealand Olympic history, crossing 4.46s clear of France. Win No 13.
January 2013: Both earn the New Zealand Order of Merit as part of the New Year's honours list.
February 2013: Win the supreme Halberg award.
March 2013: Change coaches from Tonks to Noel Donaldson.
June 2013: Victory in the World Cup at Eton Dorney means they have the most consecutive men's crew boat wins at international regattas. Win No 14.
July 2013: Win No 15 in the World Cup at Lucerne places them equal with Karsten.