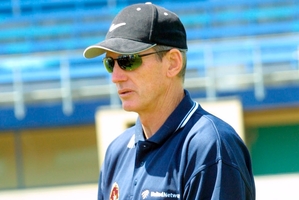 There is a larrikin aspect to the Australian league programmes that have flooded on to our screens this year but compared to a number of his colleagues, Ben Ikin - the former Queensland State of Origin back - plays with a straight bat.
Serious faced, he tries to ask the serious questions. But even Ikin might have donned a clown's nose and a silly hat this week when he envisaged a league future of new NRL teams all over Australia. This is a history littered with failure and disappointment epitomised by tonight's NRL game in Auckland.
The Warriors' penultimate round clash against Canberra would have rated as a glamour duel in league dreams long ago. Instead, they will duke it out in a mid-table dogfight, the significance only enhanced because half of the competition gets to take part in the playoffs these days.
The Warriors are candidates as the biggest flop in the history of professional sport in Australasia.
They joined the Aussie competition in 1995 to considerable fanfare and fair predictions that they could match the Brisbane dynasty and would revolutionise sport in this country. There were mutterings that rugby would be challenged and a second team established outside of Auckland. Initially, the great and the good flocked to Mt Smart, but not for long.
Nearly 20 years on, they have failed to get anywhere close to expectations and are about to land in a dangerous home-ground limbo when they are forced out of Mt Smart by local Government's refusal to do the place up. Yet playing-wise, the Warriors actually look in better shape than the once-exalted Broncos. As for Canberra, the green machine hit a red light long ago.
The plans to spread the game out of Sydney have turned into a bit of a joke over the past two decades. They have left a trail of abandoned clubs and now the ones who have survived are filling up the lower half of the table. When it comes to invading new territories, Australian league deserves the sort of humour reserved for the Italian army. The frustrating irony for the NRL is the remaining success story - in Melbourne - gets less media space than the weather report in an Aussie rules city while its success reduces the glory for teams elsewhere.
Since and including the 2001 season, stand-alone expansion teams have legitimately won just three titles. In that time, only five non-Sydney or Melbourne teams have contested the grand final, and only one has been the minor premier. The 2013 race is dominated by teams from Sydney. The only invasion that is working well is the British one - the Fab Four Burgess brothers have turned South Sydney into big hits.
Rather than predicting a spread of teams throughout Australasia, Ikin and friends might first ponder why it has gone so wrong and how to learn from the mistakes. Some of the carnage resulted from the Super League war, but that ugly period only came about because a fertile battle ground was laid by inept ARL management.
In 1995, four new clubs were welcomed into the ARL competition in what should have been a watershed year, but a sense of doom was already treading this path. As a plane carrying league bosses and the press followed the opening round events in Auckland, Brisbane, Townsville and Perth, the ARL was already facing a looming Super League war. The Perth team and the absurdly named Queensland Crushers lasted about as long as a bicycle in a demolition derby. The Warriors and Cowboys have never won a title.
Since the mid 1990s, clubs have come and/or gone in Perth, Adelaide, Brisbane, Illawarra, Gold Coast and Newcastle. Brisbane, a foolproof dynasty for so long, has slipped into relative mediocrity through a lack of strike power in its playing roster. The club is no longer assured of signing or retaining the best young Queensland talent. The Warriors, Cowboys and various Gold Coast-based teams have at times been among the worst the competition has seen. The fight for new frontiers has regressed to a point that it now includes retaining an existing one in west Sydney, where the sharp-minded league identity Phil Gould is a gunslinger who shoots from the lip.
Rugby league thrives in some respects as a backyard sport, because it escapes the playing season dilemmas which afflict rugby union. But the job of finding other backyards to play in should have been relatively simple for the set of six merchants. The sport has made a fair old hash of it.
The strangest concern has emerged in Brisbane. The po-faced Wayne Bennett did a superb job as their master coach yet some of us assumed the Broncos machine was a gimme, thanks to the advantages enjoyed by a lone club in a league stronghold. There were holes in the Brisbane record back then, but nothing compared to what has taken place since. Bennett knew how to keep the Broncos on a roll. Now the club can't even supply many State of Origin players.
While there has been mismanagement aplenty in league's imploding expansion game, finding the right coach is always a central issue and there are elements of luck and fate in that respect. Craig Bellamy has worked miracles in Melbourne; Bennett was the man in Brisbane; for a while Tim Sheens ruled at Canberra. Elsewhere, and especially in Auckland, a revolving cast is still trying to create a winning act.
One emerging lesson is that while the golden rule of real estate is location, location, location, it means only a little when determining the success of sports franchises in the modern era. Salary caps, absurd wages, draft schemes, aggressive player managers, different types of loyalties amongst young players and intense analysis and scouting all contribute to a constant changing of the guard.
Only Melbourne keep the concept of a dynasty alive in league, and that will surely end when Cameron Smith in particular, plus Cooper Cronk and Billy Slater, retire. Even Bellamy won't be good enough to overcome that.
And when the NRL does load up the wagons again and rolls into Perth or Adelaide or Brisbane or wherever, raise a knowing smile instead of a glass then wish the towns folk good luck.