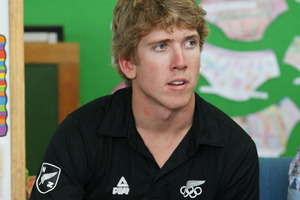 Olympic silver medallist Peter Burling isn't bothered by the target resting on the back of his neoprene wetsuit heading into next week's Red Bull Youth America's Cup.
Burling will skipper one of the two New Zealand entries in the youth regatta, which is sailed in the smaller scale AC45 catamarans previously used by the America's Cup teams on the world series.
As one of just two sailors competing next week who has previously raced in the AC45s, Burling's team of young Olympic class sailors, including his partner in the 49er class, Blair Tuke, are considered favourites to win the inaugural regatta.
The burden of expectation can be a heavy weight for young athletes, but having already experienced two Olympic campaigns by the age of 21, Burling knows a thing or two about pressure.
"Pressure is something we just deal with, it's normal for us now - we put more pressure on ourselves than I think any one else does anyway so we just get on with it," said Burling.
Following last year's Olympic campaign Burling took the helm of Team Korea for two world series events, and impressed with the way he quickly took to the wingsailed catamarans.
He said that experience gave him a big leg-up coming into the youth event.
"I think it was definitely an advantage to have sailed these things before when we were putting together our boat-handling notes and all the things like that we've brought into it," he said.
"But in the last month everyone has had some pretty good training and a lot of yachting together as teams so the standard is actually getting pretty high."
While Burling and his crew of Tuke, Andy Maloney, Jason Saunders, Jono Spurdle, Guy Endean and Sam Meech are well-resourced, receiving support from Yachting New Zealand and Emirates Team New Zealand, the other Kiwi crew in the fleet had to do it the hard way to get to the startline.
Will Tiller's Full Metal Jacket Racing had to scrape together the funds themselves to compete in the regatta. But despite the early challenges, they've found themselves a strong local network of support in San Francisco and have been performing well in the practice races held over the past couple of days.
"We came from the match-racing keelboat background, which is quite a bit slower than these fast-paced 45s. But as soon as the plans for this America's Cup was announced we fully committed to doing this," said Tiller.
"Everyone in the team has got involved with multihulls, it's been a steep learning curve but this month has been great and we've really come together strong."
The regatta kicks off on Monday and runs through to Thursday, with two fleet races scheduled for each day.

Youth Cup
Red Bull Youth America's Cup, September 2 - 5, San Francisco.
• Features 10 teams from eight different countries (New Zealand and the US each have two teams entered).
• Sailed in AC45 catamarans previously used by the America's Cup teams in the world series circuit.
• The boats are crewed by six sailors, aged 19-24.
• Two fleet races will be held each day, with the final race carrying double points.