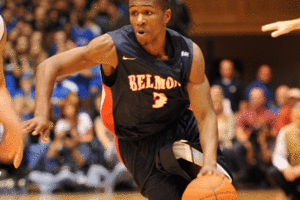 New Breakers imports Kerron Johnson and Darnell Lazare have been in the country only a matter of days but both have already noticed some differences, good and bad.
The American pair has been tasked with filling a couple of big holes in the Breakers' roster and continuing the streak of success which has brought three straight Australian NBL championships.
But, ahead of preseason training on Monday, both are simply adjusting to life in New Zealand before they face a learning curve of a different kind with the demanding franchise.
Johnson, in particular, has faced something of a culture shock this week, after leaving behind family to take up his first professional contract. The former college stand-out has been surprised by the accommodating nature of the Breakers but also the absence of a few home comforts.
The point guard's Twitter account is a snapshot of what a 22-year-old goes through when he moves to the other side of the world - with phone issues to solve and dismay to express about the unavailability of television and movie streaming site Netflix.
But, mod-con problems aside, Johnson has had his expectations exceeded in his first few days on the North Shore, with owners Paul and Liz Blackwell setting the tone.
"I don't know too many people that get picked up by the owners, and they're there at 5.30am and the head coach is there at 5.30am,'' he said. "I think that speaks volumes about the type of organisation they are, that they really care about their players.
"Just from talking to them and them showing me around Sky City and things of that nature - they've really invited me into their homes. Meeting their families and their kids - that speaks volumes. Not a lot of people do that.''
Lazare has had less of a leap to begin the new chapter in his career, having played for the Sydney Kings last season, while the 28-year-old has also seen more of the world than his compatriot.
But, like Johnson, the power forward also noted the convivial nature of the club, something to which he planned on contributing by helping the rookie find his feet in the ANBL.
"Just the togetherness of the team,'' Lazare said when about differences at the Breakers. "It seems pretty stable here and, when you have it like that, it just makes it easier to come in and do what you you've got to do on the floor.
"I'll definitely share some of my experiences with [Johnson]. I was fortunate enough to have veterans around when I was a rookie to help me out and show me the way. I think it's my duty to continue to pass that along, and I'm sure he'll fit in great.''
After an offseason filled with waves - with MVP Cedric Jackson departing for Slovenia, Dillon Boucher retiring and Dean Vickerman replacing Andrej Lemanis - the Breakers will be hoping that of both imports when the voyage for a fourth straight title begins in October.
New kids on the block
Darnell Lazare
Age: 28
Birthplace: Louisiana, United States
Position: Power forward
Previous team: Sydney Kings
Kerron Johnson
Age: 22
Birthplace: Alabama, United States
Position: Point guard
Previous team: Belmont University
- APNZ