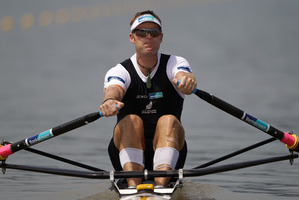 This could be a job for Don Draper.
How does Rowing New Zealand sell a vision which could sacrifice medals in smaller boats in the belief they could win some of the sport's blue riband events like the eights, coxless fours and quadruple sculls?
A simple answer is: don't sell anything. Stick to what you're good at: single sculls, double sculls and pairs.
The alternative is daunting; a bit like being 10m up on one of those blasted confidence courses where you have to let go of one rope and take a leap of faith to grasp the next.
Cue the cunning of the Mad Men advertising guru.
The New Zealand public loves its winners. It's a core reason Rowing NZ arguably enjoys the best profile in its history. Rob Waddell, Caroline Meyer, Georgina Earl (nee Evers-Swindell), Mahe Drysdale, Hamish Bond, Eric Murray, Nathan Cohen and Joseph Sullivan have become household names this century with their Olympic triumphs.
Pitching a case for glory in bigger boats is ambitious. It risks goodwill and a loss in taxpayer-funding if results are not instant.
Yet, building those types of crews takes years. The triumphant fours and eights of the late 1960s through until the early 1980s didn't just materialise.
The current women's eight is an example. They narrowly missed the world championships final (by .85s to be precise) but showed enough promise to think they might become a force by Rio de Janeiro.
However, a concerted effort would be required and that would be expensive because you are always sending eight athletes, a coxswain and a coach wherever you are competing.
To persevere with a bigger boat programme Rowing NZ would gamble that New Zealanders love sports teams more than sports individuals. It raises one of those pub debates. Are the All Blacks worshipped more than Sir Peter Snell? Are the America's Cup-winning syndicates revered more than Valerie Adams? Is the 1972 Olympic winning eight celebrated more than Mahe Drysdale?
Last year, the New Zealand Sports Journalists Association invited the 1972 men's eight to their awards night as guests of honour to celebrate 40 years since their Munich triumph. They were terrific guests and, in the evening postscript, it was obvious they were still held in awe by many in the sports media community.
That's a genuine legacy. Drysdale et al are likely to provide the public with similar memories 40 years from now but when those 1972 chaps spoke about the rewards of crew-work and the bonds formed and sustained since that amateur era, it was tingle-down-the-spine special.
There's the vision to be sold. Not so much the nostalgia element but the fact secondary school rowers can progress from the Maadi Cup to the national championships to the Olympics and know what it feels like to be part of a crew where the sum is greater than its parts.
It's a hard-sell, but could produce outstanding dividends.
Is that you, Don?