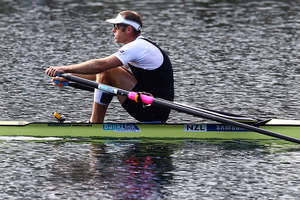 Rowing New Zealand's world championship campaign has taken on an uncharacteristic look of struggle.
Six of the country's 14 crews at the regatta have failed to make finals; many missing narrowly. The biggest shock came when a decent sprint eluded Mahe Drysdale over the last 250m, consigning him to the C and D semi-finals.
The results are probably distorted at the midway point of the regatta but when six crews miss out on finals, the outcome becomes harder to predict with certainty. It is
compounded by Olympic gold medallists like Nathan Cohen and Joseph Sullivan moving, or in Sullivan's case being forced to move, in different directions. However, of the eight crews still to race, almost all are medal contenders.
The men's pair of Hamish Bond and Eric Murray head the list of favourites but Emma Twigg, the women's pair, both doubles combinations, the lightweight men's four and women's double have been capable of podium finishes during the season.
Today represents an important opportunity to resurrect the New Zealand authority which transcended the Eton Dorney course at the Olympics. Both pairs race, as do the lightweight women's double and single.
Tomorrow will provide a further indication as to how far Michael Arms has progressed the back injury troubling him in recent weeks. The new men's double combination with Robbie Manson had been unbeaten until Monday when they finished second to Britain in their heat.
Regardless of how the remaining crews fare it will still be a step to match the results of the three world championships in the previous Olympic cycle. In Poland 2009 the New Zealanders hauled four gold and a bronze; at home in 2010 it was three medals of each colour; and in Slovenia 2011 it was four gold, one silver and four bronze.
Meanwhile, how RNZ go about building a medium-term plan to replace the likes of Drysdale will be a topic for the annual review. Yesterday's result might be a blip for the 34-year-old but the need for depth and a pathway for future single scullers - and other crews for that matter - suddenly came into full focus.