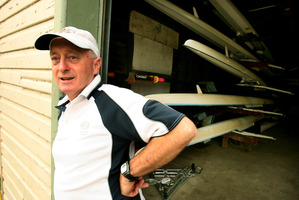 Men's sweep oar head coach Noel Donaldson admits Rowing New Zealand will reassess its bigger boat selections for next season following the coxless four's inability to make the semifinals at the world championships.
Bobby Kells, Adam Tripp, Tobias Wehr-Candler and Jade Uru came fifth in yesterday's repechage, missing out on progressing by 6.77s.
Donaldson, who also coaches men's pair Hamish Bond and Eric Murray, says the crew got on well but didn't gel on the water so they'll be forced to face the reality of professional sport.
"We tried everything," he said. "We've had everyone in every seat to see if we could get a spark but we haven't been able to find a breakthrough.
"They'll have to go back, lick their wounds, do their summer preparations and look for other opportunities which will probably mean working with other people.
"We didn't quite have the early speed to be on the race pace so we were always playing catch-up. As hard as they tried - and this is no criticism of their effort because they were highly motivated - they didn't have enough speed.
"I've reminded them they can take pride in representing their country compared to a lot of their peers who won't. But you've got to take it hard because it's got to mean something."
Donaldson speaks with the credibility of someone who has had crews, like Australia's Oarsome Foursome, triumph at Olympic level.
He says plans are under way to address New Zealand's lack of bigger boat success. The last world champions in anything greater than a two-person boat were the 2007 coxless four, a crew which included Bond and Murray.
"I'd like to think we've made headway," Donaldson said. "The under-23 men's eight won gold and the coxed four were second."
He is making contact with various athletes to get a squad of about 30 together. "We should be better in the next couple of years but need athletes capable of reaching finals standard. Most athletes perform better if they continue to build on age group success. That model includes people like Nathan Cohen, Joseph Sullivan, Storm Uru and Emma Twigg who spent a few years using the age-groups as a springboard towards elite success. It hardens them before they're thrown on to the big stage."
Donaldson says they may need to make sacrifices if they want to replicate the Olympic gold of the men's eight in 1972. "Everyone understands how tough international competition is and no one is under any illusion there might be some lessons to learn getting there."
Yesterday the women's quad of Sarah Gray, Georgia Perry, Genevieve Armstrong and Erin-Monique Shelton finished third, 0.61s off qualifying for the final despite surging in the last 250m.
The men's quad of Hayden Cohen, Nathan Flannery, Fergus Fauvel and Karl Manson came fifth. They were 6.72s off making the semifinals.
The women's quad race the B final on Saturday; the men's crews race C finals on Friday.
Today's racing sees Mahe Drysdale compete in the single sculls quarter-finals while the women's eight face a repechage.