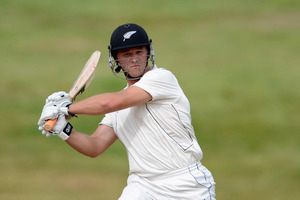 Ideally, New Zealand A coach Grant Bradburn would have liked a fully fit squad for the opening game of their cricket tour of India and Sri Lanka. But that's not the case.
Allrounder Corey Anderson (bruised thigh) and seamer Matt Henry (slight side strain) are out of consideration for the opening three-dayer against India A, starting at Visakhapatnam today, and fast bowler Adam Milne has been delayed by visa issues while trying to leave England, where he'd been playing club cricket.
Still, Tom Latham, who will captain the side in their longer form games on tour, is looking forward to getting the trip off on the right foot.
The squad have yet to see the pitch for today's game but got a taste of the sticky, humid conditions in the nets yesterday.
They've also noted some familiar names in the Indian A side, although not as many as they had been expecting.
Latham is clear on the objective of the tour.
"The main thing is we want to win the series against India and then continue the momentum for the rest of the tour through Sri Lanka.
"By doing that, individual performances and higher honours will take care of themselves."
Part of the thinking behind the tour is to give players more experience in sub-continental conditions, given the amount of cricket New Zealand will be playing there in the next few years.
"There's a lot of guys who haven't played in these conditions. It's going to be a test but a good chance to put their names in front of the selectors," Latham said.
Otago wicketkeeper Derek de Boorder will keep the first two games in India before being replaced by Luke Ronchi, with de Boorder heading to the Champions League with Otago.
New Zealand A, who had a training camp in Maroochydore, will play two first-class and three 50-over games against India A, followed by the same split in Sri Lanka.