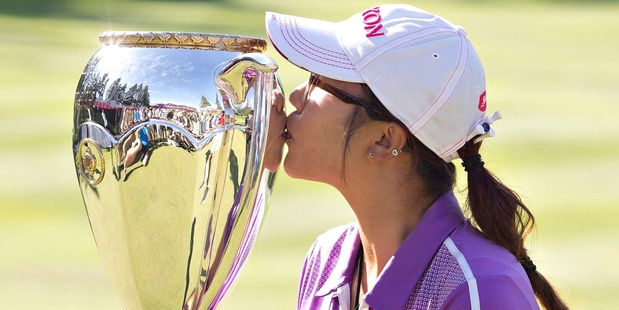 Half a world away from the fairways of Edmonton's Royal Mayfair Golf Club, Lydia Ko's classmates huddled around TVs and live-streaming computers watching the young champion rewrite history yet again.
The 16-year-old Kiwi finished her final round at the Canadian Women's Open making it look easy with a six-under par 64 to finish on 15 under for the tournament - five shots clear of the rest - making her the first amateur to win two LPGA tournaments.
But at Pinehurst School in Albany, where many of her classmates are sitting mock exams, the tension was too much.
"The school was pretty much at a standstill," said spokeswoman Vicki Wilson. "We were watching and listening with every putt and every movement that Lydia made and it was incredible, just absolutely fabulous, we are incredibly proud."
The school is planning a special assembly for their star golfer, who will return in time for her Year 12 Cambridge exams in October.
"It's not the first special assembly we have had for her but she's very modest in her approach so we try to work with her," said Ms Wilson.
Ko has now made 14 of 14 cuts on the LPGA Tour - 24 straight in all pro events - with six top-10 finishes.
But her amateur status means she has also given up nearly US$970,000, or nearly $1.24 million, in earnings.
Ko batted away more questions about turning professional but admitted she would need to do some thinking about her future.
"I've got some people above me like my mum and dad, they're the boss," she said.
"They're going to help me to make the right decision and to turn pro at what time. I think as I'm only 16 still, it's quite hard to make huge decisions. When I turn pro it's like a job."
Dave Mangan, New Zealand Golf general manager, said sponsors were lining up and despite Ko saying she wants to study at an American university believed there could be some temptation to join the professionals.
"After every one of these amazing performances I'm sure those plans do tend to change," he said. "She's the seventh-ranked women's golfer in the world and she's 16 years old and she will probably be the world's No 1 golfer by her 18th birthday."
He said Ko was now the biggest drawcard on the local golfing scene with more people attending the New Zealand Women's Open at Clearwater this year than the men's equivalent.
Mal Tongue, former coach of US Open winner Michael Campbell, said Ko's win was "an absolutely wonderful performance".
"Her x-factor is her calmness, it's just supreme ... when you watch her she speaks smoothly, she walks smoothly, she swings smoothly and she putts fantastically."
He said "the money is waiting" for her as a professional but it was important she did not complicate things.
"The No 1 main criteria is stick to your golf and don't get distracted, you can see with Rory McIlroy his performance this year has been undermined."
Passed up
Money Lydia Ko could have earned from wins as a pro golfer:
2012 Canadian Women's Open: $374,000
2012 New South Wales Open: $18,750
2013 Canadian Women's Open: $384,000
- Additional reporting APNZ, AP