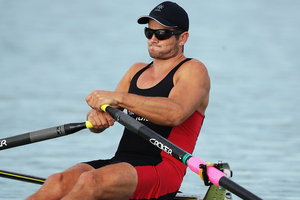 Rower Nathan Cohen is the latest high-profile New Zealand athlete to have develop a heart condition.
The 27-year-old joins the likes of Sir Peter Snell, triathlete Hamish Carter, cyclist Hayden Roulston and his former double sculls partner Rob Waddell as some of those to seek medical help regarding symptoms which caused their hearts to malfunction.
In Cohen's case, during the heats of the quadruple sculls at the world championships, his heart went out of rhythm. The medical name for his condition is supraventricular tachycardia or SVT.
Cohen experienced an episode in April but, after medical investigation, he was given a clearance.

"It feels like your oxygen is running out, you lose power and become weaker, like you're dragging something behind the boat.
"I could race tomorrow and be fine, but it's not worth taking any chances. I don't want to let my crew down."
The problem is different from that which plagued Waddell, in that it involves a separate chamber of the heart.
"It involves similar symptoms," Cohen said. "I joke with Rob that he must be contagious.
Quite often it can be a one-off but unfortunately it has limited my performance again so needs looking at further.
Cohen has managed the situation by restricting things which might set it off, like caffeine, and ensuring he gets plenty of sleep.
"Unfortunately it tends to happen when you least want it. Some say it can be brought on by adrenaline and you tip it over the threshold, especially heading into the last 1000m of a race.
"It's disappointing, having trained 10 months, for it to fall over on the opening day [of the world championships] because I had a great practice race two weeks before the regatta. I thought everything was pretty much sorted but at least the crew will be better off. That made the final decision easier.
"I now just need to get my health sorted and rebuild the confidence to compete at international level."
Cohen has been replaced by Karl Manson, brother of double-sculler Robbie, who travelled as a reserve. Manson recently earned silver in the quad at the under-23 world championships in Austria.
"Knowing Karl is coming in makes it a bit easier, because he's been in great form," Cohen said.
A decision is due within the next day as to whether Cohen stays with the team. The men's quad repechage is tomorrow.
Elsewhere the men's and women's double sculls, single sculler Emma Twigg and men's lightweight four are through to the semi-finals. The women's eight finished third in their heat so race a Wednesday repechage.
Stroke of the lightweight four, Curtis Rapley, said they've adopted a Kiwi summer treat to keep cool.
"The first three days [in South Korea] were a shock to the system but we're adjusting.
The weather's cooled a bit but the support staff do a good job helping us keep down our core body temperatures so we can perform at our best.
"We use a slushy machine [to replace electrolytes]. It's like being at a petrol station. You pull the handle and it comes out but you've got to be careful of getting a brain freeze if you drink it too fast. I've got the technique down-pat; take small sips and swallow quickly."
The men's double scullers finished second behind Britain; the first time they've been beaten since combining as a crew at the start of the season. Michael Arms has been dealing with a back injury since they returned to New Zealand.
"It was a bit tricky but I'm back to my usual self," Arms said. "The Brits went a bit quicker than since we last saw them, but I don't think they're anything too frightening."
"We're disappointed," said Arms' partner Robbie Manson. "We didn't have the best build-up so every race is a chance to return to our early season form. Technically we didn't row as well as we should have."
Andrew Alderson travelled to South Korea courtesy of Rowing New Zealand's principal partner Bankstream.