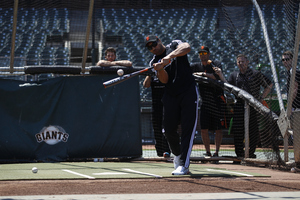 In 2012, New Zealand entered a senior team in an international baseball tournament for the first time. At the World Baseball Classic qualifiers in Taiwan our national team, the Diamond Blacks, were effectively born.
Once barely even a blip on the national sports scene, baseball has grown its player base to about 6000. Around 25 Kiwis play around the world at professional and collegiate level, hoping one day to crack the major leagues.
If they get there, they'll owe some of their success to the nation's gamblers.
Baseball's emergence has been funded entirely with gambling money. The biggest contributor is the TAB - or rather Kiwis who bet on Major League Baseball at the TAB. In 2012, the TAB paid Baseball $213,053 under a statutory requirement to return 1 per cent of turnover and 5 per cent of resulting profit to the national organisation of each sport on which it takes bets.
"The only reason I am here is because of the TAB [money]," said Baseball NZ's chief executive, Ryan Flynn.
The levy pays Flynn's salary. He's a one-man army, fighting to get a softball nation to buy into hardball. While he is optimistic baseball's global economic reach will eventually translate into wider revenue streams for the sport here, for now baseball is totally reliant on gambling money, with the TAB levy supplemented by grants from the Lion Foundation and Four Winds gaming trusts.
"Without them we have nothing," said Flynn. "Every kid that has gone to college, every kid that has gone professional, is an indirect result of these partnerships. I'd say 25 kids right now are playing professional or collegiate baseball because these trusts allowed us to run a programme.
"We don't want to live off the trusts forever. We think eventually it will supplement what we do. But we are very clear - we are proud of these partnerships. They have allowed us to change the lives of hundreds and hundreds of kids."
Flynn, an American, has adapted to the Kiwi way of doing things.
Acquiring funding for sports programmes is hard enough without worrying about how the money was raised.
"I've walked into a system where this is the way the country works. We struggle enough just to keep baseballs in kids' hands.
"I know the people who work at these trusts; they are good people. We deal with them all the time. Their hearts are in the right place. Other organisations deal with gambling. My job is baseball."