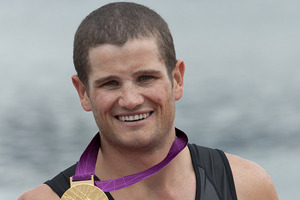 Nathan Cohen is out of the rowing world championships with a heart problem.
It is a disappointing end to this season's campaign for the Olympic doubles sculls champion who has been part of a struggling quadruple sculls crew who race tomorrow's repechage.
Cohen suffered from an episode of supraventricular tachycardia (SVT) in yesterday's heats racing.

He has experienced a previous SVT episode in April. Cohen was given the all clear to continue training and racing after being checked by medical experts at that point. In the heat racing at Chungju he experienced lack of strength and power as the race continued. The men's quad finished fifth.

"It feels like once you're into the race, your heart isn't in rhythm, oxygen is running out, and you lose power, and become weaker as the race goes on. It feels like your dragging something behind the boat," Cohen said.
Cohen has had minor episodes over the past few months, and says it is managed by limiting things which might set it off like caffeine.
"I could race tomorrow and be fine, but it's not worth taking any chances. I don't want to let my crew down," Cohen said.
The problem is understood to be different to that which plagued former Olympic single sculls champion Rob Waddell, in that it involves a separate chamber of the heart.
Cohen will be replaced by Karl Manson, brother of double-sculler Robbie, who travelled as a reserve.
Manson recently earned silver in the quad at the under-23 world championships in Austria.
He trained in the boat this morning and will do so again this afternoon.
Meanwhile the men's and women's double sculls, single sculler Emma Twigg and men's lightweight four are through to the semi-finals. The women's eight finished third in their heat so will race a repechage on Wednesday.