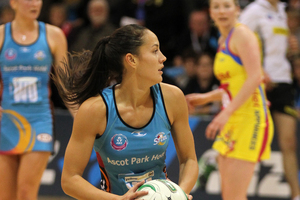 Say it quietly, as Netball New Zealand most certainly will, but new Silver Ferns midcourter Courtney Tairi is the netball version of James Tamou or Quade Cooper.
Born and raised in Sydney, Tairi grew up idolising Diamonds stars like Liz Ellis as she raced around the court for the St Clair club in Penrith.
A promising junior, Tairi later gained a scholarship to the Australian Institute of Sport, spending two years in Canberra. She featured in the victorious Australian side in the 2009 World Youth Cup - playing against current Silver Ferns Kayla Cullen and Camilla Lees - and played for the NSW Swifts from 2009-11.
"It's not a decision you take lightly," Tairi said, "but I did grow up in a Kiwi household, so there was always a link there. In recent years, Netball New Zealand have shown more interest in me than Netball Australia."
Tairi still sounds Australian, speaking with a discernible twang. She admits it is tricky, as she retains close friendships with many of her former national team-mates.
"It was a long-term goal and I'm very proud to be representing New Zealand," adds Tairi, who qualifies for New Zealand through her parents. "[In recent times] there has been more acceptance of athletes switching countries".
She probably won't be the last. Netball NZ has always taken a pragmatic approach to selecting the best possible Ferns team and have specifically targeted New Zealand eligible players living in Australia. It may sometimes go the other way - young prospect Jamie Lee Price would be eligible for either Australia or New Zealand - but migration patterns mean this country has the most to gain.
Tairi was first named in the New Zealand accelerant squad in early 2011 and despite an injury interrupted spell at the Steel has shown immense promise.
"She is fairly unique," explains Ferns coach Wai Taumaunu. "She is tall [1.80m] for a midcourter [and] tends to pull herself out to the sideline and then come back in with hard drives. That gives players like Laura [Langman] a lot more space and room to play in."
One of the weaknesses of the New Zealand side in recent years, when compared with the Diamonds, has been their inability to switch strategies and personnel within a match. Tairi adds to the menu.
"New Zealand midcourters tend to be up and down through the middle and Courtney changes that dynamic pretty obviously," says Taumaunu. "If she is paired with Laura [Langman] or Camilla [Lees] the output will be significantly different compared to what those two [Langman and Lees] produce together."
Tairi came into trials a bundle of nerves but has been happy with her performances at last week's selection camp.
The 25-year-old's selection is also a reward for perserverance. She tore her left anterior cruciate ligament in 2007, when she was on the verge of making her Commonwealth Bank Trophy debut and just a week before national under-19 trials.
She had thoughts about giving the game away, though a phone call from Ellis who relayed her own injury comeback journey was a fillip.
Then last year in the round seven match against the Magic she felt a similar crack, this time in her right knee. It meant another lengthy spell on the sidelines and painstaking rehabilitation.
"Yeah, I'm due for some luck in that area - touch wood, fingers crossed," laughs Tairi. "Those kind of injuries are horrible but time away does strengthen your determination to succeed. Hopefully I can have a good run now."
Tairi may struggle to make the starting seven but is sure to push the incumbents hard, as the five game Constellation Cup series in September and October draws nearer.