The accepted belief that Warriors forwards dwarf their Aussie counterparts is a big misconception.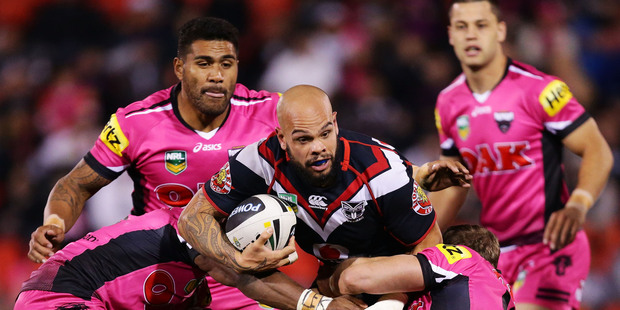 It's one of the most enduring myths of the NRL, but this year it's become laughable. Despite the fact that the Warriors have, by NRL standards, no more than an average-sized forward pack, the belief that they are a bunch of superhuman giants seems to persist.
Australian television and radio commentators, newspaper writers and even fans possess this everlasting notion that the Warriors' pack are super-sized brutes, running rampant across the fields of Australia and New Zealand.
It couldn't be further from the truth. Look at last night's match - the Titans boasted Ryan James (1.94m and 114kg) and also have Queensland behemoth Dave Taylor in their squad (1.88m and 123kg), while the biggest Warrior was Ben Matulino (1.88m and 107kg).
Last week, 120kg Penrith interchange player Mose Masoe created havoc at Mt Smart, twice knocking Warriors players down like nine pins. It's not that the Warriors can't compete - they are a rough, tough, aggressive set of forwards - but most weeks, they face packs as big, or bigger, than them.
"It started back in 1995," says former Kiwis and Roosters captain Hugh McGahan. "The Warriors came into the competition and had quite a few big, solid Polynesian boys, the like of which the Winfield Cup had never seen before.
"In their time, men like Gavin Hill and Joe Vagana were quite imposing but it's mostly a fallacy these days. Look at the under-20s now; Holden Cup teams like Canberra and Brisbane are bigger than the original Warriors."
Veteran radio commentator Allen McLaughlin, who has covered all but two of the Warriors' home games since their first match, said Australians seem to confuse hard-running, rugged players with size.
"The Warriors have had plenty of hard men over the years but this ongoing belief about a monster forward pack is completely inaccurate when compared to other teams across the competition."
In round 24, the Warriors forwards (starting and interchange) had an average weight of 101.6kg, with no player over 110kg.
On the same weekend, the Bulldogs engine room averaged 107.6kg, with four players (Frank Pritchard, Greg Eastwood, Tony Williams and Sam Kasiano) heavier than 110kg.
The Rabbitohs' heavyweight hitmen also stand out: the four Burgess brothers all weigh well over 110kg and on that weekend their forwards averaged 105.4kg. Among other teams Canberra, Penrith, Gold Coast, Newcastle and Brisbane all field super-sized packs.
Of the 50 current heaviest players in the NRL, only two reside in Auckland: promising second rower Sam Lousi (1.98m, 116kg) and Russell Packer (1.88m, 112kg).
"I'm not sure where the perception comes from," says Warriors coach Matt Elliott. "The Warriors have had some big men over the years but no more than most other clubs.
"Certainly at the moment, we have a group of powerful athletes but there are plenty of other big men in the competition... I guess we all love to use stereotypes in sport and this is one that has hung around for a long time."
Apart from the first few seasons, the last Warriors team of true big men, relative to the rest of the competition, came in the 2003 and 2004 seasons. Coach Daniel Anderson put an emphasis on strength training, bulk and power - which eventually backfired, as the team struggled with endurance and mobility - and picked men such as Jerry Seuseu, Ali Lauitiiti, Mark Tookey, Richard Villasanti, Iafeta Palea'aesina, Sione Faumuina and Evarn Tuimavave.
Players in the NRL seem to get bigger, stronger and faster every year, due to advanced training methods, better nutrition and the array of supplements available.
Kiwis hardman Kevin Tamati (1.78m and 95kg) would be smaller than many wingers today, while fellow legend Mark Graham (1.91m, 90kg) was considered a big second-rower in his time.
Former Balmain star Paul Sironen was head and shoulders above his contemporaries in the 1990s (1.95m, 115kg); now there are at least 30 players of equivalent size and his son Curtis (1.95m, 108kg) is perhaps the biggest half in the history of the sport. Gorden 'The Raging Bull' Tallis was 1.89m and 107kg, about average for a back-rower of today.