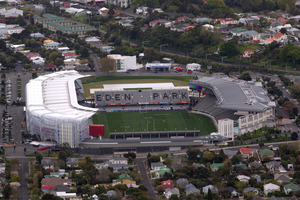 The Warriors are set to play three NRL matches at Eden Park in 2014.
It represents a 300 per cent increase on previous seasons and signals the first step in an impending permanent move to the venue.
No dates or opponents have been finalised, with the NRL draw for 2014 yet to be made, but it is likely that the first match of the season will be played at Eden Park, if the Warriors are scheduled a home game in round one.
The other two proposed Eden Park matches would be spread across the year. The extra games are unlikely to conflict with the Blues' schedule, as most of the Super 15 games played at the park are on Friday or Saturday nights, while the majority of Warriors matches fall on a Sunday.
There have also been discussions around the two codes combining for a double-header weekend, with the most likely idea seeing the Blues host the Reds, before the Warriors take on the Broncos or Cowboys the following day.
The Warriors are unlikely to open their campaign at Mt Smart next year, with Bruce Springsteen playing there on March 1, just a week before the expected NRL kickoff.
Though much of the league community has major misgivings over Eden Park, it has provided a commercial bonanza for the Warriors.
Their first game there in 2011, against Parramatta, drew a crowd of 38,412, which was almost double the highest attendance at Mt Smart that season. The next season again kicked off at Eden Park, this time in bright sunshine on a Sunday afternoon. New Warriors owner Owen Glenn was paraded before the 37,502 crowd before the match, which saw Brian McClennan take charge of the team for the first time in a much-hyped rematch of the 2011 grand final against Manly.
The marketing team hit the jackpot again this season, with Roosters and Sonny Bill Williams drawing 32,740 fans. Next year will be a litmus test, to see if the Warriors can draw large crowds to Eden Park on multiple occasions.
Perhaps matters on the field are of greater concern, as each NRL match at Eden Park has followed a similar pattern. The Warriors have made a nervous start, fallen behind, with the revival coming too late. Players reject talk of a hoodoo or a hex, saying that Eden Park is "just another ground", but the team has never looked comfortable there. It's partly because they simply don't spend much time there; they never get used to the feel of the ground and its quirky visual angles.
Three matches next season will offer a chance to acclimatise and break their losing streak at the ground. The Auckland League Nines, set down for the February 16 and 17 next year, may also provide a boost with the team spending the best part of two days at the venue.