Injuries have bitten the All Blacks this season but don't panic, the well is far from dry, writes Gregor Paul.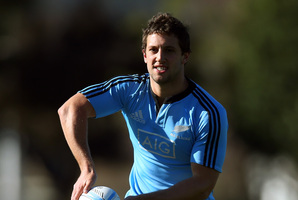 It's only now, with the casualty ward filling up, that it becomes clear how lucky the All Blacks were last year with injuries.
They lost Richard Kahui before the season started, Dan Carter was on and off with his various niggles and Ali Williams battled with a knee problem throughout the Rugby Championship - but that was it.
In the brutal world of test football, their good fortune was scarcely believable. Australia, and to a lesser extent Argentina and South Africa, weren't as blessed. The Wallabies especially suffered significantly. They lost senior players for long periods and their injury toll was a factor in their poor campaign.
The All Blacks are on track to have as large a toll as the Wallabies did last year. They've lost Kahui (again) and Cory Jane to long-term injuries, Luke Romano and Dominic Bird to medium-term problems and so far Carter, Aaron Cruden, Beauden Barrett and Liam Messam to short-term problems.
Their depth is being tested and the laws of probability would suggest it is going to be tested further. Luck was undoubtedly a factor in keeping so many players fit for so long last year but so too was the long pre-season.
The World Cup final was played on October 23, giving the players in excess of the 16-week gap between seasons that they crave. Australia, on the other hand, toured the UK in November after the tournament and it was no surprise that they lost the likes of Will Genia, David Pocock and James Horwill.
The shorter preparation time between seasons is causing reality to bite this year for the All Blacks but it should not be a problem the way it was for the Australia.
The All Blacks can absorb a few more injuries before they are in danger of falling apart. Last week, they were hit with the double-whammy of losing Cruden and Barrett after Carter had pulled up lame the previous week. Losing three first-fives should have been a serious drama - except it never was, certainly not the way it was two years ago at the World Cup.
Messam's withdrawal from the first test wasn't an issue either; in came Steven Luatua and 80 minutes later the All Blacks had an intriguing selection battle at blindside to consider. Barely 15 minutes into the game and Romano limped off - on came Brodie Retallick to seamlessly maintain horsepower.
It is a major strength of the current All Black side that they can adapt easily to injury-enforced changes. No other international side can do it so well; no one else has the same conveyor belt of talent.
"The depth is a reflection on a couple of things," says All Black coach Steve Hansen. "One is our love for the game right across the board from the day we arrive on the planet. Our school system encourages it, our club systems encourage it.
"And the second part behind our depth is the development programmes right around the country are co-ordinated between the provincial teams, the franchises and the New Zealand Rugby Union.
"People are working together to create an athlete and we are a nation that are not frightened to share our rugby ideas with each other and that helps. We have a climate that creates good athletes. Rugby is our primary sport whereas the Wallabies compete with the AFL and rugby league - so even though [Australia] has a bigger population, it is attacked by those other sports."
An injury to Ma'a Nonu would stretch the All Blacks, while they would be vulnerable if they lost one of either Andrew Hore or Keven Mealamu, but otherwise their depth is yet one more factor which sets them apart from those sides aspiring to knock them off their perch.
It's not just simply having players of a certain calibre ready to step up. There is the tricky business of bringing new faces or less experienced players into the side and having them immediately perform.
There is no room for passengers in test rugby and the momentum can be derailed if a new arrival isn't able to contribute as much as the man he's replacing. The All Blacks have an incredible track record of being able to introduce new players with stunning, immediate results: last year, Aaron Smith and Julian Savea made memorably good debuts, as did Barrett, Sam Cane and Retallick.
The secret behind that, say the players, is having clarity about what is expected of them.
"You just have to come in and do your role," says utility back Ben Smith. "You don't have to worry about anyone else's job. That makes it easier because when you come in, you know you have to know and do your core roles well."