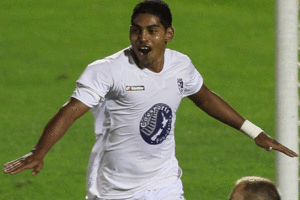 Cashmere Technical will meet three-time winners Waitakere City in the 86th final of the Chatham Cup after each posted convincing semifinal victories today.
Christchurch's Cashmere ran out 4-0 victors over Wellington Olympic at Garrick Memorial Park in Christchurch, while Waitakere were similarly dominant in a 4-1 victory over Melville United at Hamilton's Gower Park.
First-time finalists Cashmere - who are chasing a rare league and Chatham Cup double - were in control for most of their match, with Cory Mitchell opening the scoring from a goalmouth scramble just after the half hour mark.
But it wasn't until Shawn O'Brian's quickfire double in the 69th and 73rd minutes that their progression to the winter football showpiece looked assured.
A defence that have yet to concede in this season's Chatham Cup were rarely tested and substitute Dan Ede added a late strike a minute from fulltime to compound Olympic's misery.
"I think the lads were absolutely outstanding from the first minute to the last,'' said Cashmere Technical coach John Brown. "The clubrooms are full flow and we're stoked to reach the final.
"We knew if we let Olympic play they could hurt us but we really stepped up and didn't let them in.''
In Hamilton, underdogs Melville ultimately fell at the penultimate hurdle but the second-tier side made Waitakere earn their win.
A goal from dangerman Roy Krishna in the 25th minute and a contentious penalty converted on the stroke of halftime by Rory Turner silenced the Gower Park faithful, but Garmon Hafal closed the gap in the 52nd minute after strong defensive pressure.
Substitute Meneua Fakasega took the wind out of Melville's fightback in the 79th minute before Krishna wrapped up the win two minutes later with his second of the day.
"We got exactly what we expected,'' said Waitakere City coach Colin Tuaa. "It was a battle and we had to dig in early and weather what they threw at us. We scored a good goal then a timely one just before halftime and were able to wrap it up with those second half goals.''
Meanwhile, Cashmere's victory combined with Coastal Spirit's win in the Women's Knockout Cup raised the possibility of Christchurch hosting Cup finals day. The other women's finalist will be North Shore's Glenfield Rovers or Hamilton's Claudelands Rovers.
New Zealand Football are investigating the financial, logistical and broadcast implications of a move away from Auckland, with a decision likely early next week.
The tradition since 1998 has been for North Harbour Stadium to host the final, although Palmerston North and Wellington have hosted the last two.
Melville United 1 (Garmon Hafal 52)
Waitakere City 4 (Roy Krishna 25, 81, Rory Turner pen 45, Meneua Fakasega 79)
HT: 0-2
Cashmere Technical 4 (Cory Mitchell 31, Shawn O'Brian 69, 73, Dan Ede 89)
Wellington Olympic 0
HT: 1-0
- APNZ